EXCHANGE OF OPINIONS
Thomas Kelati: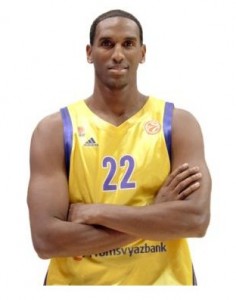 — The upcoming meeting with Turow certainly arouses in me only positive emotions. I look forward to meeting with my former team, where I spent two seasons. Nicely to meet with former partners and coaches. But I understand well that it's just emotions and wonderful memories. At the court there will be fight. I defend the colors of BC Khimki and will do everything for our victory and going further.

For sure, I expect only victory from the game. There is no right for a mistake, all guys understand it, so the mood is extremely serious. I think we have a great chance to overcome QR and access the group stage of Euroleague. Yes, we have recently gathered together, but in our team there are great players, all of them are excellent scorers, as well as a strong coach, so that all is in our hands. By the way, my European playing career I started in Belgium. I like this country, where I quickly adapted. Nice to be back there again.
VISITING CARD
PGE Turów Zgorzelec, Poland
Founded:
in 1948
Arena:
Centrum Sportowe (1500 seats)
Team colors:
green and black
President:
Jan Michalski (since November 2008)
Achievements:
silver medalist of Polish Basketball League (2006-2007, 2007-2008, 2008-2009, 2010-2011), EuroCup ULEB quarter-finalist (2007-2008)
Official web-site:
http://www.ksturow.eu/
In season 2010/2011 PGE Turow scored second place in the national championship. First place, seven year in a row, won Asseco Prokom Gdynia. This year extremely bitter struggle happened — the winner was determined only in the seventh game: Prokom won 76-71 and again became the golden medalist. In the regular championship Turow ranked second (22 games: 15 wind — 7 losses).
Turow on his ways to the final:
Quarterfinal
PGE Turow – PBG Basket Poznan – 3-2 (72-66, 73-72, 77-69, 47-69, 70-87)
Semifinal
PGE Turow – Trefl Sopot – 4-3 (62-76, 77-66, 69-82, 91-82, 78-77, 79-93, 77-67)
Final
PGE Turow – Asseco Prokom – 3-4 (79-88, 81-66, 56-81, 54-48, 84-79, 64-72, 71-76)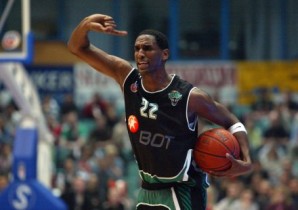 BC Khimki American guard with Polish passport
Thomas Kelati
played in Turow for two years (2006-2008). He considerably contributed to the success of the Polish bulls (in the logo of the club the bull is depicted). In season 2006/2007 he helped Turow for the first time in its history enter Polish Basketball League finals and became the best guard of his team.
ROSTER
In the off-season many players
left
Turow (only three guys stayed — Konrad Wysocki, Michal Gabinski and David Jackson):
—
guards:
Bartosz Bochno (Slask Wroclaw — POL-PLK), Michael Kuebler (Asseco Prokom — POL-PLK), Torey Thomas (Spartak-Primorye — RUS-PBL), Oskar Bukowiecki
—
forwards:
Robert Tomaszek (Wuerzburg — GER-1.Bundesliga), Marko Brkic (Igokea — BIH-D1)
—
centers:
Ivan Zigeranovic (Borac — SRB-A League), Mateusz Jarmakowicz (AZS Koszalin — POL-PLK)
The following players singed contracts with the Polish club:
—
guards:
Giedrus Gustas, Michal Chylinski, Michal Jankowski, Ronald Moore
—
forwards:
Aaron Cel, Artur Mielczarek, Dallas Lauderdale
—
centers:
Daniel Kickert, John Edwards
From September 4 to 21 took part in three tournaments and played in 11 games, scored five victories. Best results: Daniel Kickert (13.2 ppg) and David Jackson (12.4 ppg). They are the leaders of the team. David Jackson's average last season: 10.5 ppg, 3.1 rebounds and 1.3 assists. Captain Konrad Wysocki (Beijing Olympics-2008 and EuroBasket-2009 participant in German team) is also one of the best players of Turow.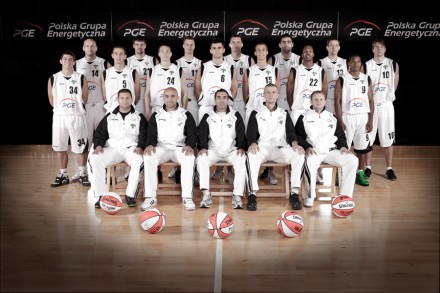 | № | Player | Position | Height | Birthday | Nationality |
| --- | --- | --- | --- | --- | --- |
| 5 | Aaron Cel | F | 204 | 1987 | France/Poland |
| 6 | Daniel Kickert | C | 208 | 1983 | Australia |
| 7 | Giedrus Gustas | G | 190 | 1980 | Lithuania |
| 8 | Michal Chylinski | G | 198 | 1986 | Poland |
| 9 | Artur Mielczarek | F | 195 | 1983 | USA |
| 10 | Konrad Wysocki | F | 200 | 1982 | Germany/Poland |
| 13 | Michal Gabinski | F | 201 | 1987 | Poland |
| 14 | Michal Jankowski | G | 192 | 1984 | Poland |
| 22 | David Jackson | G | 193 | 1986 | USA |
| 25 | Ronald Moore | G | 183 | 1988 | USA |
| 52 | Dallas Lauderdale | F/C | 203 | 1988 | USA |
| 54 | John Edwards | C | 213 | 1981 | USA |
Head coach: Jacek Winnicki (Poland)