One Team
Khimki doubles up for new One Team season
The new season has seen Khimki Moscow Region mark its return to Turkish Airlines EuroLeague action by greatly increasing the scope of its work with One Team, Euroleague Basketball's social responsibility program.
Khimki has been developing its One Team activities for the four years, working with groups of children who had been deemed by local youth authorities as prone to antisocial behavior.
And for the new season Khimki is now working with two separate groups of children simultaneously, with one group located in Khimki and the other in the nearby town of Mytishchi, where the club's EuroLeague home games are being staged. First of all, the club is continuing its long-standing partnership with the town administration of Khimki, who have helped initiate a collaboration with Vera (which translates as 'Faith'), a local center for children suffering from mental disabilities.
The professionals at the center have formed a group of 13 children aged between nine and 16 to participate in this year's One Team program, which will see Khimki provide an opportunity for the group to train in professional sports facilities.
These sessions are aimed at developing the children's psychomotor skills and basic social skills such as following instructions, consideration for teammates, understanding common goals and the role of an individual within a team. Khimki's new program in Mytishchi is dedicated to a group of children from local orphanage Mytishchi Children's Home of Musical Education, which cares for 32 children aged seven to 16.
As the name suggests, a special feature of this orphanage is providing musical education for the children, who all learn to play a musical instrument and form an orchestra which has a long history of participation in a variety of musical events.
And now the new One Team project is giving the Mytischchi children an additional sporting element to their education, with the opportunity to be trained by renowned former basketball player Vitaly Nosov, a two-time World Championships silver medal winner with the Russian national team, along with fellow One Team Ambassadors and current Khimki stars Dmitry Solokov and Anthony Gill.
Nosov will be assisted by players from Khimki's Basketball Academy, giving the children from the orphanage the chance to interact with peers who come from a professional sport background, with the encounters hopefully providing a fresh perspective on the benefits of a healthy and active lifestyle.
Although this season's collaboration is new, it is not the first time Khimki has worked with the orphanage, which has been a regular participant in the club's 'Chebureada 3x3' charity basketball tournament hosted annually in collaboration with the Children's Charity LADA.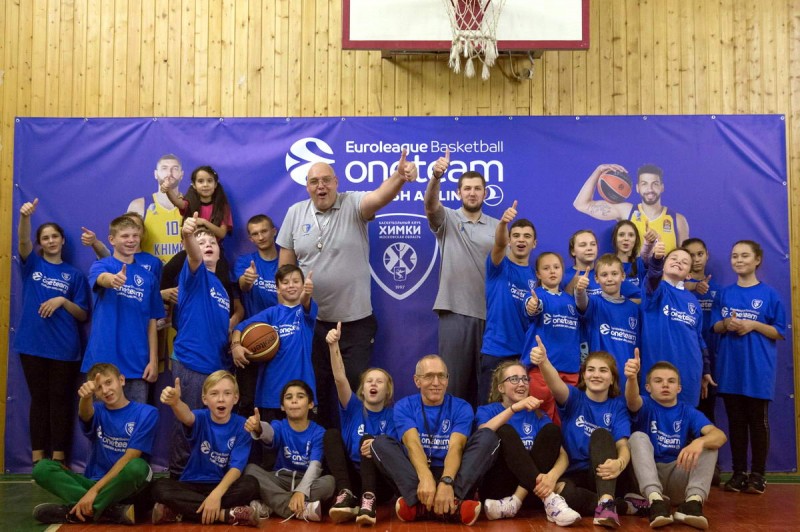 With two important projects running at the same time, it promises to be the best year to date for Khimki's One Team program!
One Team, EuroLeague Basketball's corporate social responsibility (CSR) program, supported by Turkish Airlines as the One Team Founding Patron and with the collaboration of Special Olympics as Proud Partner, uses basketball to achieve real social impact in our communities. With an innovative model of interconnectedness across an entire continent, EuroLeague Basketball and its clubs have developed a complete CSR programme that brings together activities from each team in an integrated, impactful way, working under the theme of "community integration". Each participating club develops a specific One Team project tailored to its own community needs to benefit groups in danger of exclusion due to problems such as substance abuse and gender, physical or intellectual disability.
Since its founding in 2012, the One Team program has already helped more than 16,000 participants through its various team-focussed projects.