BC Khimki dominated in all components on the court and scored a huge home win, defeated Valencia Basket in the second 7Days EuroCup quarterfinals game — 98-74 (18-15, 27-26, 24-21, 29-12). The next game our team will ply on Sunday, March 5, 2017 vs. Tsmoki-Minsk, Belorussia. Tipo-ff at 17:00 msk.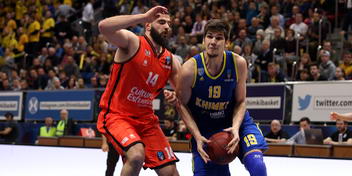 BC Khimki: Pullen (18 + 4 rebounds), Shved (17 + 11 assists + 8 rebounds), Sokolov (16 + 4 rebounds), Hummel (14 + 3 rebounds), Rowland (10 + 4 assists + 3 rebounds), Brown (7 + 4 rebounds + 2 steals), Todorovic (6 + 5 rebounds + 4 assists + 2 blocks), Zaytsev (5 + 3 assists + 3 rebounds), Vyaltsev (5 + 3 rebounds), Ilnitskiy, Monya

Valencia Basket: Sastre (18), Dubljevic (17 + 6 rebounds), Thomas (10 + 7 rebounds + 3 assists), Oriola (8 + 3 rebounds), San Emeterio (6 + 6 assists), Vives (6 + 5 assists + 3 rebounds + 2 steals), Van Rossom (3), Sikma (2 + 3 rebounds), Martinez (2 + 5 assists), Sato (2).

POST-GAME

Pedro Martinez, Valencia Basket head coach:

"It was a difficult game for us. We were in a good rhythm but Khimki played much better than us. They had more energy and better defense. In the third quarter we did a good job and tied the game. I think Khimki played with more regularity. We had too many ups and downs, problems with defensive rebounds and defending in one-on-one situations. Khimki was better than us. Now the series is tied and we have to be ready for the next game. We have to play with energy. Sokolov played great tonight. He is a big and smart player; we had some problems to defend him, especially close to the basket. We have to be ready to play better defense on him, but against the whole team, as well".

Luke Sikma, Valencia Basket forward:

"I don't think we were as strong defensively as we were in the first game. They started making shots and when they catch fire it's tough to stop them. They scored a lot of points. But there is still another game in Valencia and we'll prepare. Hopefully, our crowd helps us out like always. We'll be ready. We knew Sokolov is a veteran player who brought a physical aspect to them. He gave them a chance tonight and in the first game. This is something we have to deal with. We have to keep doing things and follow our game plan. We have a tough game with Baskonia on Sunday but we still have Monday and Tuesday to rest up".

Dusko Ivanovic, BC Khimki head coach:

"It was only one game and the math was quite simple: if we win, we are alive; if we lose, we are out. I think we have chances. I want to think that everything depends on us. Valencia here in Moscow and Valencia in Spain are very different. They play great at home in front of their fans, and it will be a tough game. But we want to win and will go to Spain with this idea. Sokolov played well tonight, like all the team, especially on defense in the second half. At the same time, we had some problems with defensive rebounds in the second quarter".

Jacob Pullen, BC Khimki guard:

"We won, so I can say it was a good game for us. We were focused because we had to win. Now we have to be focused again before going back to Valencia. We played good defense and had good rotation; all the guys were making passes, so we were able to score. It will be tough on the road, but we have to do the same thing on defensive rebounds".