BC Khimki failed to clinch VTB United League regular season second place losing to Zenit St Petersburg at home — 66-74 (23-15, 19-24, 11-22, 13-13). The next game our team will play on the road on Monday, April 17, 2017 vs. Astana. Tip-off at 17:00 msk.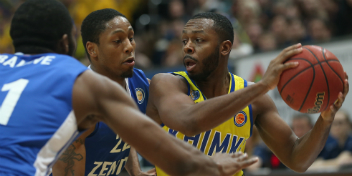 BC Khimki: Shved (18 + 4 rebounds), Zaytcev (12 + 4 rebounds), Todorovic (10 + 9 rebounds), Rowland (10 + 3 assists), Boungou-Colo (7 + 6 rebounds), Pullen (7), Sokolov (2), Monya, Hummel, Ilnitskiy

Zenit St Petersburg: Karasev (23 + 5 rebounds + 3 assists), Markovic (18 + 6 assists + 6 rebounds + 3 steals), Harper (13 + 7 rebounds + 4 assists), Landry (5 + 5 rebounds), White (5), Timma (4 + 8 rebounds), Valiev (4 + 4 rebounds), Mbakwe (2), Pushkov, Vikhrov.

POST-GAME

Dusko Ivanovic, BC Khimki head coach:

"We lost the game and also a chance to clinch second place in the VTB United League regular season, but our goals haven't changed. We need to reach the finals and make the EuroLeague next season. In my opinion, we can do it. In our two remaining games, we must play much better and show more patience. We started strong today and had the lead, but there was a point when we had two-three quick possessions which led to mistakes. Zenit played very well. If you back down against a team like that and turn the ball over, they will punish you. Our opponent demonstrated excellent offense today and fast breaks, which got them back in the game. We struggled to begin the third quarter and Zenit took the lead by pushing the tempo. They ran every chance they got and scored easy baskets. Once they were up by 10, it was hard to come back. We cut the deficit to 4-6 points twice, but overall, my team wasn't patient enough throughout the game".