Due to a self-denying team game in defense and attack BC Khimki crushed the champion of Serbia Partizan mt:s Belgrade — 92-65 (26-13, 24-24, 19-14, 23-14). The next game, also at home, our team will play with BC Krasnye Krylya (Samara) on Saturday, December 4. The beginning of the meeting is at 18.00 Moscow time.
BC Khimki:
Langford (22 + 6 rebounds + 3 assists + 3 steals + 2 blocks), Planinic (16 + 4 rebounds + 3 assists + 2 steals), Fridzon (11 + 3 rebounds), Lopez (10 + 3 rebounds), Loncar (9), Eze (8 + 4 blocks + 4 rebounds), Kelati (7 + 3 rebounds + 2 assists), Dmitriev (5), Savrasenko (2 + 5 rebounds), Monya (2 + 3 rebounds).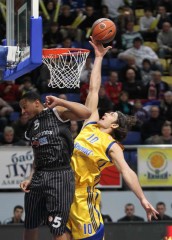 BC Khimki improved to 3-4 in Turkish Airlines Euroleague Group A by downing Partizan mt:s 92-65 in Russia on Wednesday. Khimki kept all of its Top 16 options alive and is one win away from Partizan, that dropped to 4-3. Keith Langford paced the winners with 22 points on 9-of-12 two-pointers. Zoran Planinic added 16, Vitaly Fridzon had 11 while Raul Lopez got 10 for Khimki. James Gist led Partizan with 18 points. Nathan Jawai added 16, Curtis Jerrells had 13 in his Euroleague debut while Dusan Kecman got 10 for the guests. Both teams played really physical in the first quarter, combining for 15 fouls and 23 free throw attempts. Fridzon and Langford helped Khimki to get a 26-13 lead after 10 minutes. Jawai and Gist tried to change things for Partizan but an outstanding Planinic allowed the hosts to keep a 50-37 edge at halftime. Nothing changed after the break, as Khimki kept finding open shots and managed to keep a safe lead all the way until the final buzzer.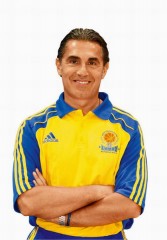 Sergio Scariolo, BC Khimki Head Coach:
— We are extremely satisfied with the game, with the result, and with the intensity we played with for all 40 minutes. This is the contribution of all the players. The win has a high value for the Euroleague standings and for our morale. We feel more self-confident. It was our best game of the season. And the paramount goal now is to win two games out of three to reach the Top 16.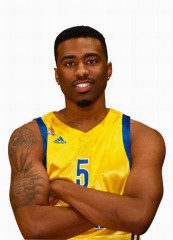 Keith Langford, BC Khimki Guard:
— It was a very important win for us. We understood quite well what we have to do today and we did it. I'm proud of all the guys I play with and I'm sure this victory is great groundwork for the future. We have shown a great understanding within the whole team and exactly performed what the coaches asked. Our team acted tough on defense and everyone could see our selfless labour. Everyone in Partizan's roster played well, but today we were better.