BC Khimki outscored Avtodor Saratov in a VTB United League home game — 102-70 (29-16, 25-19, 26-18, 22-17), due to 25 pts by Shvedm 14 pts by Pullen and 13 ts by Zaytsev. The next game our team will play on Saturday, December 10, 2016 vs. Parma perm. Tip-off at 17.00 msk.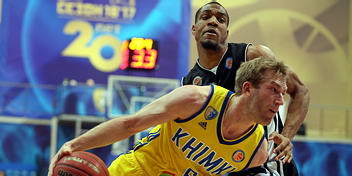 BC Khimki: Shved (25 + 3 rebounds), Pullen (14 + 5 assists), Zaytsev (13 + 10 rebounds + 6 assists + 2 blocks), Boungou-Colo (10 + 5 rebounds + 4 steals), Todorovic (9 + 5 rebounds), Rowland (8 + 3 rebounds + 3 assists), Hummel (7 + 4 rebounds), Evans (6 + 5 rebounds), Likhodey (5), Vyaltsev (3 + 3 rebounds), Ilnitskiy (2 + 5 rebounds), Sokolov (2)

Avtodor: Minnerath (22 + 5 rebounds), Makiev (9 + 7 rebounds), Kolesnikov (9 + 5 rebounds), Fraizer (9 + 5 assists), Hunter (8 + 5 rebounds), Kolyushkin (6 + 3 rebounds + 3 assists), Astapkovich (3), Teague (2 + 3 assists), Stockton (2), Carrera, Lomonov, Balandin.

POST-GAME

Sergey Mokin, Avtodor head coach:

"We played against a good team. They have some recent momentum and play very organized. We lost the one-on-one battle. When guys like Alexey Shved, Jacob Pullen take over a game, any team would have difficulty defending. It was a logical outcome. Regarding Teague and Hunter, they clearly struggled to get going. They aren't in shape yet. Time will tell what roles they are capable of on the team. You certainly wouldn't call the first part of the season a success for Avtodor. We're playing a lot of rivals on the road. I hope we'll fix the situation in the second half and pick up our points".

Dusko Ivanovic, BC Khimki head coach:

"We played a good game. The only negative is that there were some stretches when we didn't take a serious approach to the game. We need to be very serious for the entire 40 minutes. As for Zaytcev, he's someone who always plays and practices at 100% and gives his maximum. His play in the game vs. Avtodor is the result of his hard work".

Vyacheslav Zaytsev, BC Khimki guard:

"It wasn't as easy as it could seem. We played aggressively on both ends of the floor, scored some easy baskets and got the game going. The coach trusted me to start the game, it gave additional confidence. Avtodor is a good team, they got some new faces who didn't have time to fit in the team. I guess they will be a true power soon".