In the last 2016 home game BC Khimki outscored RETAbet Bilbao Basket (Spain) — 99-78 (27-10, 28-22, 22-25, 22-21) with 18 pts by Shved and 11 pts by Boungou-Colo. The next game our team will play on the road vs. CSKA Moscow on Sunda, December 18, 2016 at 17:00 msk.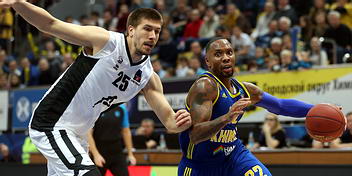 BC Khimki: Shved (18 + 7 rebounds), Boungou-Colo (11 + 3 rebounds), Rowland (10 + 5 assists), Zaytsev (10 + 4 rebounds), Todorovic (8 + 5 rebounds + 4 assists), Ilnitskiy (8 + 5 rebounds), Monya (8), Brown (7 + 5 rebounds), Vyaltsev (7), Likhodey (6 + 3 rebounds), Sokolov (6), Pullen

Bilbao Basket: Buva (18), Eric (15 + 3 rebounds), D. Todorovic (10 + 3 rebounds + 3 assists), Hervelle (10 + 3 rebounds), Nikolic (8), Lapornik (6), Bamforth (5 + 3 rebounds + 3 assists), Mumbru (4 + 3 rebounds), Borg (2 + 7 assists), Tabu, Mendia.

POST-GAME

Carles Duran, RETAbet Bilbao Basket head coach:

"First, congratulations to Khimki; they played better than us. I think the third quarter was the key. We played better during three or four minutes, but then Khimki every time made easy baskets. Also, when you lose the first quarter by a margin of 17 points, it's impossible to win. Nothing more to add".

Dejan Todorovic, RETAbet Bilbao Basket forward:

"I think we started the game softly. We didn't have some luck because we had like four or five open shots and missed them. Then Khimki started playing harder than us. They really showed us the level of a EuroLeague team. I think Khimki recognized us like a team that would fight till the last seconds. We went out in the third quarter playing better defense. We started moving the ball a little bit better and made some shots. The second half was obviously better that the first".

Dusko Ivanovic, BC Khimki head coach:

"The first half we played well both in offense and defense. The second half turned to be different, but tonight all the players had time on the court. We finished the first round of the EuroCup and now we are waiting for our opponents in the second one".

Valery Likhodey, BC Khimki forward:

"We have already played with Bilbao and this was our second game. Both games were alike, but in Spain we made a run in the third quarter and now did it from the very beginning. I think we set a good pace, whereas Bilbao played without ambitions and desire. So the outcome is very natural. They had a really bad game tonight. We are happy to clinch first place in the group. Hopefully, we'll do the same in the Top 16".