Due to great team effort as in defense as in offense BC Khimki at home outscored VTB United League rookie in Parma Perm — 92-66 (32-12, 20-15, 27-16, 13-23). The next game our team will play also at home on Wednesday, December 14, 2016 vs. RETAbet Bilbao Basket. Tip-off at 19:30 msk.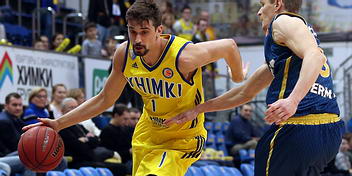 BC Khimki: Shved (14 + 6 assists + 4 rebounds), Rowland (14 + 4 assists + 3 rebounds), Hummel (13 + 4 rebounds), Brown (13 + 3 rebounds), Zaytsev (10 + 5 rebounds + 3 assists), Todorovic (8 + 4 rebounds), Ilnitskiy (6 + 7 rebounds), Sokolov (6), Monya (3 + 3 rebounds), Evans (2 + 6 rebounds), Vyaltsev (2), Pullen (1)

Parma: Dybovskii (15 + 5 rebounds), Chernov (12 + 4 assists + 4 rebounds), Andjusic (10 + 4 assists), Barinov (8 + 3 rebounds), Vinnik (6 + 6 rebounds), Bulanov (5 + 4 rebounds), Zhmako (5), Ukhov (5), Nelybov, Platunov.

POST-GAME

Viacheslav Shushakov, Parma head coach:

"We probably need to talk about the first quarter, when our players looked lost. Unfortunately, the teams are at different levels, which had an impact at the start. Then we settled down, but couldn't hit easy shots. Maybe that's why we got tight on defense and gave up some easy points to Khimki. We evened things out a bit with our defense and tried to keep things simple on defense in the fourth quarter, which brought some results".

Dusko Ivanovic, BC Khimki head coach:

"We started this game very seriously that was the key for a win. Parma is a good team. Three quarters we played very seriously but also in the last one we had concentration. Sometimes this kind of a game is good".

Dmitry Sokolov, BC Khimki center:

"Parma plays its own game; they shoot at will, don't run plays. It's hard playing against such teams. We had a great start, at the second half we lost discipline a bit, but our lead aloud us to play like this. We've got some tough games coming up and we need to focus on them".