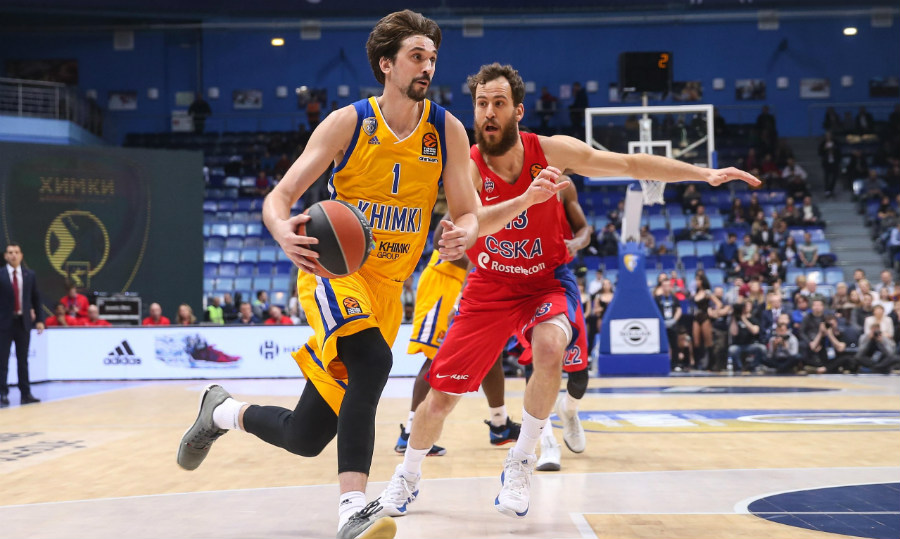 It was a historic day for Khimki Moscow Region that recorded its first-ever win in the Turkish Airlines EuroLeague Playoffs on April 25, 2018 by beating crosstown rival CSKA Moscow at Arena Mytishchi to stay alive in their best-of-five series. Let's remember how it happened.
This was the first home game for Khimki in the EuroLeague Playoffs. Before that, the Moscow Region team lost twice in Moscow and wanted to take revenge at home, so it was a game of survival.

The game started with a CSKA's 0-5 lead, while Khimki missed its first 5 shots. More than two and a half minutes passed before Shved got the hosts on the scoreboard. Shved added a three-pointer and Gill converted a tough three-point play to give Khimki its first lead, 8-7. It was a tight first half that ended with a Shved's free throw and a slick Khimki's 44-42 lead.

Higgins knocked down an open three from the corner two minutes into the second half to give CSKA the lead, 46-47. He added another from downtown to silence the once raucous arena. Hunter added a jumper to make it 48-52 midway through the third quarter. Shved scored twice before a put-back by Gill pushed Khimki ahead 56-55. Baskets by Higgins and Shved in the final minute of the third quarter ended it at 60-57. Gill started the fourth quarter with a slam and Robinson dunked too for an 8-point lead. Clyburn stepped up with a pair of baskets and Hunter also scored 4 points in a 0-8 run to tie the game at 65-65. Gill drained a triple on the ensuing play and – after neither side scored for nearly two minutes – Honeycutt beat the shot clock with a long three for a 71-65 lead. Gill added another triple before Rodriguez ended CSKA's drought. Free throws by Rodriguez and Clyburn drew CSKA within 74-70 with two minutes to play. Shved made a tough layup with 26 seconds left that all but sealed the game. Rodriguez free throws gave CSKA hope, but Charles Jenkins iced the Khimki win.

After this game Khimki Moscow Region head coach Georgios Bartzokas stated: "Defensively we were very solid. That's why CSKA scored less than 20 points from their average. It was important for us to defend well and to share the ball. Whatever we did, we had good open looks. On the other hand, we turned the ball over so many times. We were so stressed. We played under so much pressure; we wanted to win this game on our home court".

Khimki Moscow Region forward Tyler Honeycutt added: "I think, the key was rebounding. In the first game we lost by a margin of 15 rebounds and that hurt us, especially mentally. We kept our spirits high in the game. We knew they were gonna fight back in the game. It's not over yet; we have another game. We know we can compete with them, so it's a matter of us giving the effort and energy so it's a win".

Khimki returned to the winning path, but in the next game they lost to CSKA in a dramatic ending. However, this victory was the first ever for the club, and it will always remain in the memory of the players, coaches and fans of the team.


Author: Sergey Khodyachikh