BC Khimki sweeps Lokomotiv-Kuban in the third VTB United League playoff game — 86-73 (25-23, 14-21, 24-14, 23-15) with a huge performance by Alexey Svhed, sho scored 33 pts and dished 10 assists. Our team got to the Final Four that will be held in Moscow from June 8 to 10, 2018.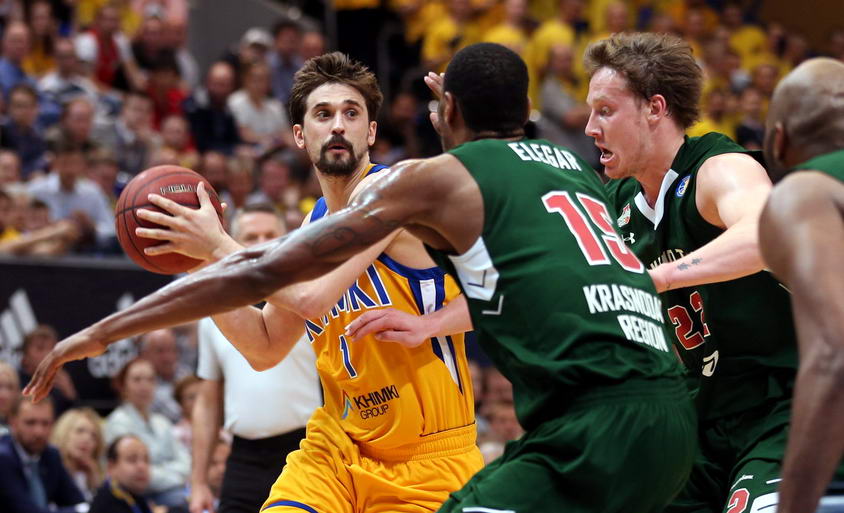 Georgios Bartzokas, BC Khimki head coach:

"It was a very nervous game, full of tension, and it was normal, especially for our team. I would like to give one big credit to our players, fans and front office because we managed to win this series against a very difficult team like Loko. Three times in a row in one week is not easy at all. We are talking about the team that wan unbeaten in the EuroCup for all season, so beating them thrice is not easy at all, especially with the problems we had. Everybody knows that we have a lot of injured players; all our frontline is injured, I mean Sokolov, Pateev, Robinson, Todorovi, Gill and also Markovic who can't play. So, we cannot even make practice and brought players from the second team who were helping a lot. I would like to mention this hust to understand how difficult was this part of the season for us. At the same time, we gave 34 games in the EuroLeague, so comparing with Loko who played, I think, 22 or 23 games with completely different intensity as in the EuroLeague. You need a completely different effort to play in the EuroLeague in such good and strong games, than in the EuroCup. It looks like we were exhausted both mentally and physically, and of course with injures, that's why it was a big accomplishment that we went to the Final Four with all these problems. A big credit to everybody; congratulations to our team. Congratulations to Loko; they have a great team and played very hard".