On Tuesday, November 22, within the bounds of Eurocup regular season group stage BC Khimki will face the current Latvian champion — VEF Riga. Moreover we'll see the duel of two Lithuanian coaches: Rimas Kurtinaitis vs Ramunas Butautas. The beginning of the meeting is at 19.00 msk.
AUSTIN DAYE
will play his last game for BC Khimki! His contract with our club came to an end and we won't prolong it anymore. On Wednesday Austin moves to USA!
EXCHANGE OF OPINIONS
Zoran Planinic, BC Khimki guard:
– VEF is our opponent not only in Eurocup but in the VTB United League as well. We have already played with this team at its home court. VEF is a team with a heart that plays tough. In the roster there are experienced players like Janicenoks, Valters, and Millage, and for sure they want to have a run with us. As for Khimki we are well-prepared, confident, we know how to win games. I think now we play more like a team than in the beginning of the season. It's going to be an interesting game and I hope we will win. We should emphasize on defense – this is the key for success.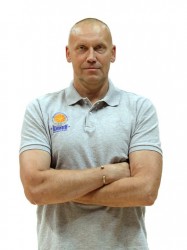 Rimas Kurtinaitis, BC Khimki head coach:
– VEF is a very good team with strong roster including as young as experienced players. For sure they realize that it will be extremely difficult to enter Eurocup Final Four but they are always ready to beat strong teams, they always play in full strength and don't relax. If we let ourselves relax it will be hard for us. I hope the game will be interesting and everyone will enjoy.
VEF RIGA (RIGA, LATVIA)
Founded:
1929 (re-founded – 2007)
Team colors:
Black and White
President:
Maris Martinsons
Arena:
ARENA RIGA (built in 2006, capacity – 12000 seats)
Official website:
www.vefriga.com
Within the bounds of Eurocup group stage round two BC Khimki plays at its court with the current Latvian champion VEF-Riga. For our head coach Rimas Kurtinaitis this game is a special one – more than half a year ago he coached the Riga team, but in March signed an agreement with our club. In season 2011/2012 VEF participates in four tournaments – Latvian Basketball League (LBL), Baltic Basketball League (BBL), Eurocup and VTB United League. At the same time Khimki will face VEF four times: twice in Eurocup and twice in VTB United League.
CLUB'S HISTORY
VEF-Riga is the oldest professional basketball club in Latvia and Baltic region. Club's name "VEF" came from the radio manufacturing company "VEF", which founded VEF Riga basketball club in 1929. After the clash of the USSR the club disappeared and was re-founded only in 2007. During 2010-2011 BBL season, VEF made a huge surprise as they eliminated grand Lithuanian basketball club Lietuvos Rytas at the BBL quarter-finals, with result 79-68. This was the first time when BBL finalists wasn't Lithuanian grand clubs Lietuvos Rytas and Zalgiris. However, VEF-Riga wasn't able to become the champion of the Baltic Basketball League as they lost final to legendary Lithuanian basketball club Zalgiris with result 69-75. In season 2010-2011 they become the LBL champions for the first since re-foundation in 2007 time.
SEASON 2011/2012
In the LBL VEF played seven games and lost only once (6-1). The team mostly succeeded in BBL Cup, crushed in the 2011 final Estonian Tartu with the overall score – 95-69. VTB United League progress of the Latvian team is not bad too (2-3): thrice lost to Khimki Moscow Region (75-85), UNICS Kazan (85-99) and Nizhniy Novgorod (88-102), VEF managed to score two victories – over Astana (83-73) and Zalgiris (88-79). As for first Eurocup game VEF at home defeated Greek PAOK – 80-74.
ROSTER
In the off-season VEF parted ways with one of the most eminent players of the last year – Byelorussian center Artem Parakhovsky, who moved to Pallacanestro Cantu (Italy). The club was strengthened by Lithuanian center Antanas Kavaliauskas, Americans Courtney Sims, Curtis Millage and Marque Perry. Russian big man Ivan Nelyubov changed Riga to Nizhniy Novgorod. As for experienced Latvian guard Sandis Valters, he stayed in VEF.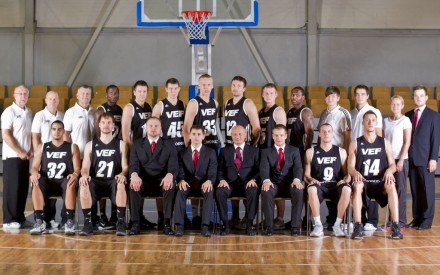 | № | Player | Position | Height | Birth | Nationality |
| --- | --- | --- | --- | --- | --- |
| 4 | Marque Perry | G | 185 | 1981 | USA |
| 5 | Janis Kaufmanis | F | 201 | 1989 | Latvia |
| 9 | Gatis Jahovics | F | 200 | 1984 | Latvia |
| 10 | Sandis Valters | G | 193 | 1978 | Latvia |
| 12 | Kristaps Janicenoks | F | 196 | 1983 | Latvia |
| 14 | Kasparts Berzins | C | 213 | 1985 | Latvia |
| 21 | Antanas Kavaliauskas | C | 209 | 1984 | Lithuania |
| 24 | Curtis Millage | G | 188 | 1981 | USA |
| 32 | Tyler Cain | F | 204 | 1988 | USA |
| 33 | Janis Berzins | F | 200 | 1993 | Latvia |
| 44 | Courtney Sims | C | 211 | 1983 | USA |
| 45 | Dairis Bertans | G | 192 | 1989 | Latvia |

Head coach: Ramunas Butautas (Lithuania)