In a bitter struggle for the first place in group A BC Khimki lost in the very ending of the game with Israeli Maccabi Electra (Tel Aviv) — 76-78 (10-19, 21-23, 27-14, 18-22). On Sunday BC Khimki within the bounds of VTB United League will meet with Polish Asseco Prokom. The beginning of the meeting is at 18.00 Moscow time.
BC Khimki:
Loncar (15 + 8 rebounds), Monya (11), Lopez (11 + 4 assists), Fridzon (10 + 6 rebounds + 3 assists), Eze (10 + 5 rebounds), Langford (9 + 5 assists), Dmitriev (5), Planinic (5 + 7 rebounds + 6 assists).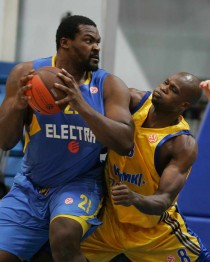 The final fascinating throw of David Blu determined the outcome of a fantastic game between BC Khimki and Maccabi Electra. Confidently started (2-16) Israeli players managed to relax in the third quarter (they lost an advantage from "+14" to "-7") and the score became equal. Fridzon, Monya and Loncar showed their best game but it was not enough for a total success for the team. For 18 seconds up to the end of the match BC Khimki was in the lead 76-75 but the rash turnover gave up the hopes of the yellow-blue for a win. The last but not the least Maccabi's throw from Pargo wasn't successful but on the rebounding Perkins played better: he grabbed the rebound and fired to Blu, who nailed the game-winning three with 0.4 seconds remaining. And BC Khimki could not get off a shot, leaving Maccabi to celebrate.
Sergio Scariolo:
— Congratulations to Maccabi. But I should say that I am sorry for my players, they made great efforts to cut the 15-point deficit against a strong team like Maccabi. We had a better ranking, we rebounded better, had more assists, we could see the win in our hands, but we made two mistakes in the end.