In its third game within the bounds of VTB United League BC Khimki confidently won a game with Polish Asseco Prokom — 99-79 (19-10, 23-20, 28-15, 29-34). On Thursday, November 18, in Kaunas our team will play a Euroleague game with Zalgiris. The beginning of the meeting is at 20.45 Moscow time.
BC Khimki:
Langford (18 + 4 rebounds + 3 assists), Monya (15 + 5 rebounds), Fridzon (13 + 3 rebounds + 3 assists), Planinic (12 + 5 rebounds + 3 assists), Loncar (12 + 4 rebounds), Lopez (9 + 2 rebounds + 3 assists), Dmitriev (8), Eze (8 + 2 rebounds).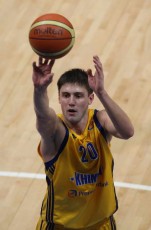 Confidently started, BC Khimki scored an advantage over Asseco Prokom and was in the lead during all the game. Monya scored 10 points in the first quarter, Loncar was the best in the second one as well as Fridzon and Lopez — they scored two three-pointers each. The gap between two teams became 16 points and Tomas Pačėsas took several time-outs. In the third quarter Loncar, Monya and Fridzon again scored three-pointers and the final quarter proved to be mere formality — BC Khimki confidently won
99-79
and on Thursday our team will face with Zalgiris.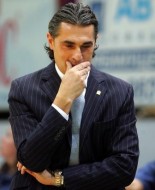 Sergio Scariolo, BC Khimki head coach:
— I'm pleased with the game. I told my players to be concentrated during first minutes. We managed to do it and during the whole game we didn't allow ourselves to relax and let out the thread of a strife from our hands. Some players feel troubles with "physics", but it's time to be patient — we'll be all right in couple of weeks. Also we look forward for Kelati's recovering.