Despite excellent defense in the second half of the game BC Khimki was beaten by Zalgiris in Kaunas — 73-65 (22-19, 16-14, 16-21, 19-11). On Sunday, November 21 our team will play a PBL game with Dynamo Moscow. The beginning of the meeting is at 13.00 Moscow time.
BC Khimki:
Planinic (14 + 3 rebounds), Langford (10 + 4 rebounds), Loncar (10 + 2 steals), Fridzon (8 + 7 rebounds + 3 assists), Eze (8 + 7 rebounds + 2 blocks), Lopez (7 + 6 assists), Savrasenko (6 + 2 rebounds), Monya (2 + 2 rebounds + 3 steals).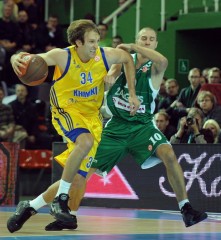 Confidently started, BC Khimki players lost concentration and Zalgiris jumped ahead in the first quarter, it dominated the game but a 0-13 run allowed BC Khimki to be back in the meeting and even take hold of the lead. However, in the last period, a couple of big three-pointers by the hosts sealed the outcome. Now Zalgiris is with a 4-1 record in the standings while BC Khimki drops to 2-3. Dainius Salenga led the winners with 11 points and Tomas Delininkaitis helped with 10. For BC Khimki, Zoran Planinic led the way with 14 points while Kresimir Loncar and Keith Langford contributed 10 apiece. Zalgiris won the game despite having a 3-17 in the steals-turnovers ratio. A 16 of 18 from the free throw line proved crucial to take the win in front of BC Khimki's 9 of 17.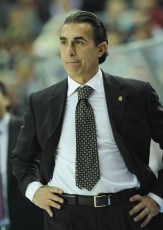 Sergio Scariolo, BC Khimki Head Coach:
— It was a tough game, the outcome of which came down to little things, like shooting in the last few seconds of attacks and a number of errors during the last minutes of the game. Zalgiris played aggressively at the beginning, but we defended in the second half well. Mr. Jankunas, as always, played well.
Photos: Zalgiris