In the ending of a stubborn struggle BC Khimki lost concentration and was beaten by Polish Asseco Prokom — 67-71 (12-12, 24-20, 12-16, 19-23). The next game our team will hold within the bounds of VTB United League in Riga on November, 27. The opponent is the Latvian team VEF.
BC Khimki:
Langford (17 + 2 assists + 2 rebounds + 2 blocks), Monya (14 + 5 rebounds), Loncar (8 + 3 rebounds), Lopez (7 + 6 assists + 3 rebounds), Eze (7), Fridzon (6 + 2 rebounds), Savrasenko (6), Kelati (2), Planinic (0 + 5 assists), Panin (0 + 3 rebounds + 5 assists).
Asseco Prokom made its first win in Turkish Airlines Euroleague Group A by edging BC Khimki Moscow Region
71-67
in Poland on Wednesday. Asseco Prokom broke its five-game losing streak in this Euroleague season and improved to 1-5. BC Khimki dropped to 2-4 and now needs to bounce back right away to keep its Top 16 options alive. Ratko Varda led the winners and became the game hero by scoring 12 of his 14 points in the fourth quarter, leading Prokom to a big home win. Daniel Ewing added 13 while Filip Videnov had 12 for Prokom. Keith Langford had 17 points for Khimki while Sergey Monya added 14. Monya had 11 points in the first half to give BC Khimki a 32-36 edge at the break. The game stayed close in the second half, as Benjamin Eze kept the guests within 63-60 with 3 minutes left. Varda had 6 points — including a big triple — in crunch time to seal the outcome down the stretch, as BC Khimki never recovered.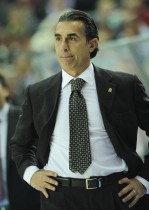 Sergio Scariolo, BC Khimki head coach:
— It was a very difficult and equal game. The crucial moment was the fourth quarter, when Asseco Prokom took an eight-point lead. We also commited five personal fauls very fast and that's another reason for the final score. Our opponents showed bigger character and involvement in the last minutes of the game. I hope that in the next games we will not forget to play defense in the final, most important moments.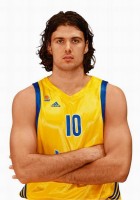 Kresimir Loncar:
— We lost a very important game. I don't know what happened, but it is another game lost in the final quarter. Our situation is tough and it will be hard for us to advance. We complicated our lives very much and I'm very disappointed.