BC KHIMKI – SPARTAK ST. PETERSBURG

PAST MATCHUPS (0-0)
BC Khimki Moscow Region and Spartak St. Petersburg have never played against each other in European club competitions. Of course, both teams face each other on regular basis in the Russian League, where they played twice this season. Khimki downed Spartak 87-81 in double overtime on November 7, 2011. In their next matchup, Khimki edged Spartak 53-56 in St. Petersburg on February 18.
CONTENDER 3. BC KHIMKI (MOSCOW REGION, RUSSIA)
ABOUT THE CLUB
BC Khimki Moscow Region was founded on January 5, 1997. The Khimkians needed only two years to force their way through the elite of Russian basketball. A real bursting on the international scene the Khimkians made in season 2004-2005 when Khimki got bronze medals of FIBA-Europe League. In 2008 Russian club won its first in history trophy – Russian Cup and then in 2011 added the VTB United League golden Cup. In 2009 our club entered the Final Eight of the EuroCup, where only in the very final was beaten by Lietuvos Rytas, headed by Rimas Kurtinaitis. Besides Kurtinaitis, two members of team have the experience of winning the Eurocup – Thomas Kelati and Matthew Nielsen.
HEAD COACH, RIMAS KURTINAITIS
A European basketball legend by all means, Rimas Kurtinaitis can make Eurocup history by becoming the first coach to win the competition twice. Kurtinaitis is fully regarded as one of the best shooters ever seen in this continent. He played until age 46, and then resumed his coaching career in Russia, Lithuania, Poland and Latvia. Kurtinaitis led L. Rytas to its best season ever, winning four titles – Baltic League, Lithuanian League, Lithuanian Cup and above all, the Eurocup.
STAR, VITALY FRIDZON
A homegrown talent turned into a Russian basketball star, Vitaliy Fridzon will try to lift the Eurocup trophy in his team's home court on April 15. Fridzon arrived to BC Khimki's second team in the 2004-05 season but was immediately promoted to the senior squad that year. Despite his 11-point effort in the Eurocup 2009 final, Fridzon could not make Khimki beat Lietuvos Rytas in the title game. Fridzon became his team's captain in 2010-11, has played two Turkish Airlines Euroleague seasons with his club and won a bronze medal with Russia at EuroBasket 2011.
BC KHIMKI MOSCOW REGION: DID YOU KNOW THAT…
...head coach Rimas Kurtinaitis can become the first coach to win two Eurocup titles? Kurtianitis previously lifted the Eurocup trophy with Lietuvos Rytas in 2009.
...Thomas Kelati and Matt Nielsen have the chance to win their second Eurocup title. Only three players won the title twice in the past: Edu Hernandez-Sonseca (Real Madrid 2007, DKV Joventut 2008), Mindaugas Lukauskis (Lietuvos Rytas 2005, 2009) and Kelly McCarty (Hapoel 2004, Unics 2011).
...Khimki made it to the Eurocup final in 2009? It lost against Lietuvos Rytas. Vitaliy Fridzon is the only Khimki player in the Eurocup Finals that played that title game.
...four Khimki players got medals at EuroBasket 2011? Vitaliy Fridzon, Sergey Monya and Dmitriy Khvostov helped Russia to win bronze while Mickeal Gelabale played the final and won silver with France.
...Kresimir Loncar and Zoran Planinic can become the third and fourth Croatian player to win the Eurocup? Marko Tomas (Real Madrid 2007) and Marko Popovic (Unics 2011) are the only two Croatian to lift the Eurocup trophy.
...Mickael Gelabale can become the fourth French player to win the Eurocup? Jerome Moiso (Joventut 2008), Florent Pietrus and Nando De Colo (Valencia 2010) are the only two French to lift the Eurocup trophy. Pietrus and De Colo are also present in the 2012 Eurocup Finals.
...Khimki has the chance to be the third Russian team to win the Eurocup? Dynamo Moscow lifted the trophy in 2006 and Unics won the title in 2011.
...Khimki leads the 2011-12 Eurocup in performance index ranking (90.1 per game), three-point (41.2%) and free throw (81.7%) shooting percentage and assists (19.2 apg.)?
...Nielsen ranks sixth in the Eurocup's all-time rebounding list. Nielsen had 342 rebounds until now and will probably reach the Top 5, as Mario Austin ranks fifth with 345 boards. Nielsen is also ninth in steals (51).
ROSTER
BC Khimki leaders are Croats Kresimir Loncar (12.6 points, 4.2 rebounds per game) and Zoran Planinic (10.5 points, 3.1 rebounds, 4.9 assists, 1.5 steals). A key role plays BC Khimki captain Vitaly Fridzon (12.4 points, 3.3 rebounds, 2.3 assists, 1.3 steals). Stable basketball show American Chris Quinn (7.5 points, 2.8 assists, 1.1 steals), Russian forward Sergey Monya (8.4 points, 5.2 rebounds, 2 assists, 1.4 steals). Left in tve very beginning of December 2011 to NBA Denver Nuggets center Timofey Mozgov had 3 Eurocup games with the stats of 10.3 points and 4.3 rebounds.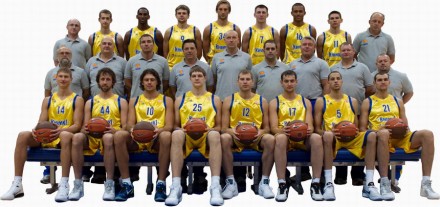 | № | Player | Position | Height | Birthday | Nationality |
| --- | --- | --- | --- | --- | --- |
| 7 | Vitaly Fridzon | G | 195 | 1985 | Russia |
| 9 | Egor Vyaltsev | G | 190 | 1985 | Russia |
| 10 | Kresimir Loncar | C | 210 | 1983 | Croatia |
| 11 | Chris Quinn | G | 188 | 1983 | USA |
| 12 | Sergey Monya | F | 202 | 1983 | Russia |
| 13 | Dmitry Khvostov | G | 190 | 1989 | Russia |
| 14 | Anton Pushkov | C | 208 | 1988 | Russia |
| 16 | Benjamin-Pavel Dudu | F | 200 | 1991 | Russia |
| 17 | Evgeny Karpeko | C | 204 | 1989 | Russia |
| 20 | Mickael Gelabale | F | 201 | 1983 | France |
| 21 | Alexey Zhukanenko | C | 210 | 1986 | Russia |
| 22 | Thomas Kelati | G | 195 | 1982 | USA/Poland |
| 34 | Zoran Planinic | G | 198 | 1982 | Croatia |
| 44 | Matt Nielsen | F | 209 | 1978 | Australia |
Head coach – Rimas Kurtinaitis (Lithuania)
CONTENDER 4. SPARTAK (ST. PETERSBURG, RUSSIA)
ABOUT THE CLUB
The club was founded in 1935. In 1958 Spartak became the champion of Leningrad and in the qualifying tournament gained the right to play in the USSR championship. In 1969 Spartak coached by Vladimir Kondrashin took bronze medals and became USSR champion in 1975. In 1970-s and in 1980-s Spartak took medals of USSR championships and became the winner of the Cup Winner's Cup in 1973 and 1975. In 1992 the team won CIS championships. After the silver medal of Russian championships the results went down. Finally in 2008-2009 Spartak achieved the fourth place in the championships of Russia and in the next season won bronze medal of Russian Cup – the first medal of the club in ten years. In 2010-2011 team became the winner of Russian Cup and was in the Final Four of Eurochallenge. On the eve of a season 2011-2012 Jure Zdovc from Slovenia became the head coach of the team. Under his management the team with one defeat reached the Final Four of Eurocup, also is in the quarterfinal of the championships of the United VTB league and in the Final Four of Russian Cup.
HEAD COACH, JURE ZDOVC
In the summer of 2011 Spartak signed the contract with Slovenian coach Jure Zdovc. He was famous before like the head coach of Slovenian National team in Europeans-2009 and Olimpija which played in Euroleague. Zdovc was a famous point guard and his coach career now is only developing but the fact that he was announced by Euroleague 2011-2012 Eurocup Coach of the Year tells about many things. In this season Spartak takes part in 4 tournaments and in each of them the team fights for the highest places. To put the highest level – such is the credo of Jure Zdovc.
STAR, PATRICK BEVERLEY
The American point guard appeared in the team in January, 2011 and at once became one of the leaders the of team. Patrick is a motor of Spartak as the actions of the young jet guardin many respects define the game of the red-whites. In the current season Patrick became the most valuable player of the first round of the Russian BEKO PBL championships, and also is in the first all-star team of Eurocup, with on the average 12,9 points per game, 4,1 rebounds, 3,8 assists and 2 steals per game.
SPARTAK ST. PETERSBURG: DID YOU KNOW THAT…
...Yotam Halperin, Vassily Zavourev and Anatoly Kashirov can join a select group of players that won the Euroleague and the Eurocup? Only five players did that in the past — Antonis Fotsis, Lazaros Papadopoulos, Robertas Javtokas, Dejan Tomasevic and Ricky Rubio. Halperin won back-to-back Euroleague titles with Maccabi in 2004 and 2005. Kashirov also lifted the Euroleague trophy twice, with CSKA in 2006 and 2008. Zavourev was also with CSKA in 2006.
...Miha Zupan and head coach Jure Zdovc can be one of the few Slovenian to win the Eurocup? Only one Slovenian won the Eurocup title in the past — Hasan Rizvic (Unics 2011).
...Yotam Halperin can be the first Israeli player to win the Eurocup since 2004? Hapoel, featuring seven Israeli players, lifted the Eurocup trophy in 2004.
...Janis Strelnieks can become the second Latvian player to win the competition? Roberts Stelmahers (Lietuvos Rytas, 2005) remains as the only Latvian to win the Eurocup.
...Loukas Mavrokefalidis has the chance to be the first Greek player to win the Eurocup in six years? Lazaros Papadopoulos and Antonis Fotsis won the competition with Dynamo Moscow in 2006.
...head coach Jure Zdovc won the Euroleague as a player? He lifted the continental trophy with CSP Limoges in 1993? Zdovc was also a World and European champion with former Yugoslavia back in his playing days.
...Miha Zupan is the first hearing-impaired player ever to play the Euroleague and the Eurocup? Zupan was born without hearing and learned to speak over many years of effort at special schools before taking up basketball at age 14.
...Spartak has the best defense in the competition? Spartak has allowed just 65.8 points per game in 14 games before the Eurocup Finals.
...Spartak was the only team to sweep its Quarterfinals series. Spartak won both games against CEZ Nymburk. BC Khimki Moscow Region, Valencia Basket and Lietuvos Rytas got to the Finals on points differential.
...at age 23, Patrick Beverley is the youngest player ever to win the Eurocup MVP award?
ROSTER
Leaders of Spartak are foreigners: American guard Patrick Beverley (12.9 points, 4.1 rebounds, 3.8 assists, 2 steals), Greek forward Loukas Mavrokefalides (12.7 points, 3.8 rebounds) and Montenegrin center Vladimir Dragicevic (10.8 points, 4.4 rebounds). Also well-known players Yotam Halperin (8.4 points, 5.4 assists, 2.7 rebounds) and Valery Likhodey (8.5 points, 2.8 rebounds).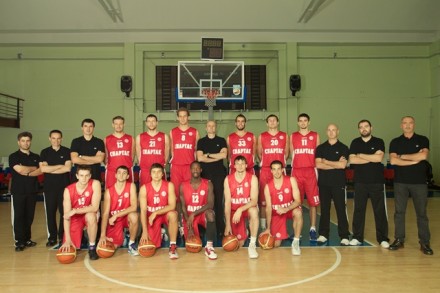 | № | Player | Position | Height | Birthday | Nationality |
| --- | --- | --- | --- | --- | --- |
| 4 | Janis Strelnieks | G | 191 | 1989 | Latvia |
| 5 | Vasily Zavoruev | G | 196 | 1987 | Russia |
| 7 | Alexey Kotishevskiy | G | 196 | 1985 | Russia |
| 8 | Anatoly Kashirov | C | 215 | 1987 | Russia |
| 9 | Yotam Halperin | G | 196 | 1984 | Israel |
| 10 | Pavel Sergeev | G | 187 | 1987 | Russia |
| 11 | Valery Likhodey | F | 203 | 1986 | Russia |
| 12 | Patrick Beverley | G | 185 | 1988 | USA |
| 13 | Miha Zupan | F | 204 | 1982 | Slovenia |
| 14 | Alexey Zozulin | G | 199 | 1983 | Russia |
| 15 | Pavel Antipov | F | 202 | 1991 | Russia |
| 20 | Vladimir Dragicevic | C | 205 | 1986 | Montenegro |
| 21 | Loukas Mavrokefalides | F | 208 | 1984 | Greece |
| 23 | Victor Keyru | F | 200 | 1984 | Russia |
| 33 | Nikola Dragovic | F | 206 | 1987 | Montenegro |
Head coach – Jure Zdovc (Slovenia)