Tomorrow on Tuesday, February 21, BC Khimki at its home court will face Greek Aris BSA 2003. In the first game in Greece (January 17) Aris was beaten — 48-73. The beginning of the meeting is at 19.00 msk. Don't miss! We need your support.
EXCHANGE OF OPINIONS
Rimas Kurtinaitis
– Comparing with our previous game Aris lost a very important player Dominic James, who was like a major element in the chemistry of coach Alexandris. I suppose this loss will affect the team's game. But it's nothing to talk about – under successful concatenation of circumstances Aris still has chances to go further so this very meeting will be important for both teams. They play like a united team without vivid stars but Tapoutos, Verginis and Davis performed nice and we had some problems with them. Hopefully our aggression in defense and concentration help us win.
Thomas Kelati:
– We play with Aris for the second time, now it will be a different team. They lost one important player Dominic James, who left to Partizan Serbia, so I suppose it will be a difficult game but we play at our home court and need to win. Now matter that our rhythm now is up and down, we just came from a good win over Spartak, got confident and want to struggle for the fist place in our group. In Thessaloniki we played very well, smart and it was a great game, we were focused for 40 minutes. If we come out tomorrow and play for 40 minutes focused again it could be very hard for Aris to stop us.
ARIS BSA 2003 (THESSALONIKI, GREECE)
Founded in 1922 году
Team colors:
Black and Yellow
Arena:
Alexandreio Melathron (5000 seats)
President:
Giannis Damianidis
Honors:
Greek Champion (1930, 1979, 1983, 1985-1991), Greek Cup Winner (1985, 1987-1990, 1992, 1998, 2004), Corac Cup Winner (1997), Cup Winners' Cup (1993), FIBA Europe Cup (2003), ULEB Cup Finalist (2006)
Official web-site:
www.arisbc.gr
Aris BC is one of the most successful Greek basketball clubs of all times, tallying 10 Greek Championships, 8 Greek cups, and 3 European titles. Under the leadership of the legendary duo of Nikos Galis and Panagiotis Giannakis, Aris was the dominant force in Greek basketball during the 1980s and early 1990s. It is for this period of dominance that Aris BC has been nicknamed "The Emperor" and voted the most successful Greek sporting club of the 20th century. Aris is also one of the most renown Greek clubs in European basketball, participating in 3 consecutive Euroleague final-fours, and winning 3 European titles. The historic win of the 1997 Korać Cup, in particular, bolstered the notion that Aris has a unique place in the history of Greek basketball, in fact in the history of Greek sports altogether.
HISTORY
Aris BC, the basketball branch of Aris Thessaloniki was founded in 1922, 8 years after the founding of Aris AC. Aris Thessaloniki played a crucial role in the development of Greek basketball to make the sport what it is now in the country. By 1930 it won its first league title. It took Aris nearly 50 years to repeat that success, winning its second league title in 1979. With Nikos Galis and Panagiotis Giannakis as its superstars, Aris established itself as a pillar of Greek basketball, winning 81 consecutive domestic games between 1985 and 1988 and reaching the 1985 Korac Cup semifinals.
ARIS was close to a fourth different European title in 2006, but lost the ULEB Cup final against Dynamo. The club returned to the Euroleague soon after, making two consecutive trips to the Euroleague Top 16 in 2007 and 2008. Aris went all the way to the Eurocup Quarterfinals in 2009-10, but was swept by soon-to-be champ Power Electronics Valencia. A fan base like few others, if any, will try to help the team to start a new era. Aris knows the Eurocup inside out and few teams will be able to steal a road win from Thessaloniki, where the basketball atmosphere in any important game is simply outstanding.
ARIS vs PAOK
Special reference must be made to the rivalry between ARIS and PAOK. Fierce rivals in all sports, the ARIS and PAOK basketball face-offs had a distinct flavor between 1985 and 1992, as those were the two top teams in Greece. In games where a defeat is more than a lost game, the mood of most of the fans of either ARIS or PAOK is quite seriously affected for some time following a defeat to their opponents.
The most memorable game was the third playoff game between the two teams in 1991. ARIS had a 2 game lead from the regular season, but PAOK managed to even the score with 2 victories in the first 2 playoff games, so, naturally, they had the momentum going into the 5th game of the best-of-seven series. PAOK was up by 4 points almost 10 seconds before the end of that 5th game. What followed left scars in many PAOK fans: Panagiotis Giannakis scored a quick 2-point basket, reducing the deficit to 2 points. A sloppy inbounds pass was stolen by Dinos Angelidis, who passed the ball to Nikos Galis, who (guarded by a frenzied John Korfas) started to penetrate, but then passed the ball to Giannakis, who drilled a 3-pointer at the buzzer. ARIS went on to win the next playoff game and thus the 1991 championship.
A MIRACLE
In the mid-1998-January ARIS top-star Jose Ortiz left the club, due to the fact that the team hadn't had the money to pay him. Tiit Sokk followed his way as well. Leadership of Lefteris Hatzopoulos quit, Efthimis Kioumourtzoglou was no longer the coach and ARIS was on God's hands while some of the most dramatic moments in the club's history were taking place. The club had no money, but they had plenty of soul. Within two weeks, they beat all of the considered to be big teams of Greece (Olympiacos, PAOK, Panathinaiks and AEK), the two last ones in the Final Four of the Greek Cup and they became winners of the 1997-98 Greek Cup. Mario Boni was about to leave the team too before the Final Four but he stayed because he loved the team and its fans, and he helped a lot in this tremendous effort.
SEASON 2011/2012
This Eurocup season is the sixth one for ARIS. Last year the club entered Eurocup Last 16 and became Greek League Semifinalist. Now it ranks 10th in the national championship (6 wins — 11 losses). ARIS entered Eurocup Last 16 from the second group C place (4 wins — 2 losses).
ROSTER
In the beginning of February Aris was left by its leader — American guard Dominic James (14.7 ppg). Now the team's leaders are: Christos Tapoutos (7.8 ppg, 4.8 assists), Ronald Davis (11.2 ppg, 3.6 rebounds) and Sam Muldrow (8.5 ppg, 6.3. rebounds).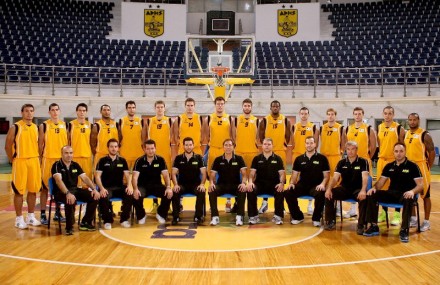 | № | Player | Position | Height | Birthday | Nationality |
| --- | --- | --- | --- | --- | --- |
| 4 | Dan Mavraides | G | 183 | 1988 | USA |
| 5 | Sergio Kerusch | G | 195 | 1989 | USA |
| 7 | Christos Tapoutos | F | 201 | 1982 | Greece |
| 9 | Michals Tsairelis | F | 206 | 1988 | Greece |
| 11 | Ronald Davis | G | 190 | 1982 | USA |
| 12 | Matej Krusic | C | 211 | 1987 | Slovenia |
| 13 | Eleftherios Bochoridis | G | 194 | 1994 | Greece |
| 14 | Giorgos Bogris | F | 210 | 1989 | Greece |
| 15 | Sam Muldrow | F | 205 | 1988 | USA |
| 16 | Dimitrios Tsaldaris | F | 194 | 1980 | Greece |
| 17 | Dimitrios Verginis | G | 191 | 1987 | Greece |
| 18 | Tasos Dimas | G | 195 | 1988 | USA |
| 19 | Alexandar Vezenkov | F | 203 | 1995 | Bulgaria |

Head coach: Vangelis Alexandris (Greece)