Today the Khimkians moved to French city of Villeurbanne where tomorrow they will face the local team of ASVEL Basket. It will be the last game of Eurocup Last-16 but not the very last one for our team. At the end of this meeting we'll know our opponent in quarterfinal. The beginning is at 22.30 msk.
EXCHANGE OF OPINIONS
Rimas Kurtinaitis:
– Of course, we go to France with the only goal of winning this game. It will be not an easy thing, Asvel plays at home and will try to do all its best in the face of its fans. I would especially like to point out Edwin Jackson and Hilton Armstrong – the very first is a top scorer, the second one – best on rebounding. We won three previous road games – it's a good sign from the point of view of finding confidence. We have already qualified for quarterfinals, so it's good chance of giving playing time for those who was lacking of it.
Mickael Gelabale:
– First of all, we expect to win – it's the last game of this stage of the tournament and we want to finish it with a good mood. For sure, for me it's something special to play with the former team, where I spent last season. Of course, the game will be tough despite the fact Asvel has no chances to go further. This squad always plays for win – they will perform hard and try to entertain their spectators. The roster has changed a little bit comparing to the last season, but the backbone has remained. It will be great for me to meet my former partners.
ASVEL BASKET Lyon-Villeurbanne (France)
Founded in 1948
Team colors:
Light-green, white and black
Arena:
L'Astroballe (5800 seats)
Honors:
French Championchip-17 (1949, 1950, 1952, 1955-1957, 1964, 1966, 1968, 1969, 1971, 1972, 1975, 1977, 1981, 2002, 2009), French Cup-8 (1953, 1957, 1965, 1967, 1996, 1997, 2001, 2008), Euroleague Final Four-2 (1976, 1997), Semaine des As Cup-1 (2010), Saporta Cup Finalist-1 (1983)
Official web-site:
www.asvelbasket.com
HISTORY
The club, located in the city of Villeurbanne (suburb of Lyon), was founded in 1948 with the merger of two multi-sport clubs in Lyon and vicinity. ASVEL is an acronym combining the names of the predecessor clubs – Association Sportive Villeurbanne and Éveil Lyonnais. ASVEL Basket is one of the best teams in French basketball history and it now looks to leave its mark on the Eurocup.
Asvel was one of the first powers in the French League with 15 championships between 1949 and 1981 and has remained among its country's elite clubs for the past few decades. In the 2002-03 Euroleague season Asvel advanced to the Top 16. French powerhouse played the Euroleague for several seasons before making its ULEB Cup debut in 2005-06, when it reached the quarterfinals. In 2007-08, Asvel missed the ULEB Cup Last 16 by a single point and fell a victory short of reaching the French League title game.
Last season Asvel played well, but came up a little short in the Eurocup and reached the semifinals in the French playoffs and Cup. Now with a hungry young team and a dash of experience at key spots, this could be a special season in Villeurbanne.
SEASON 2011/2012
In Eurocup 2011/2012 regular season ASVEL Basket played in Group D, eventually ranked first with 4 wins and 2 losses (to Lukoil Academic and Valencia Basket). The French club entered Eurocup Last-16 where faced BC Khimki, ARIS BSA 2003 and BC Donetsk. Before the next game the French have only one victory and four losses. It's not enough to go further, so tomorrow game will be the last Last-16 for them.
Eurocup. Last-16
January 17, 2012
ASVEL Basket –
BC Donetsk
–
75-86
(20-19, 21-24, 16-22, 18-21)
ASVEL: Armstrong (21 + 5 rebounds), Thompson (16 + 4 assists), Goss (10 + 5 assists)
January 24, 2012
BC Khimki
— ASVEL –
86-80
(25-15, 16-15, 23-22, 22-28)
BC Khimki: Kelati (18 + 5 rebounds + 3 assists), Fridzon (17 + 4 assists), Loncar (15), Monya (14 + 5 rebounds), Planinic (12 + 7 assists)
ASVEL: Jackson (18), Goss (14 + 4 подбора), Thompson and Armstrong (in 11 each)
January 31, 2012
Aris BSA 2003
— ASVEL –
77-60
(22-14, 13-20, 21-14, 21-12)
ASVEL: Tillie (17 + 6 rebounds), Goss and Thompson (in 10 each)
February 7, 2012
ASVEL
— Aris BSA 2003 –
79-52
(23-9, 16-9, 16-22, 24-12)
ASVEL: Armstrong (18 + 8 rebounds), Tillie (12), Jackson (11 + 5 assists + 4 rebounds)
February 21, 2012
BC Donetsk
— ASVEL –
93-87
(16-21, 16-19, 26-23, 35-24)
ASVEL: Jackson (19 + 5 assists), Thompson (17 + 5 rebounds + 5 assists), Armstrong and Tillie (in 12 each), Goss (11 + 4 assists)
In French National League (Ligue Nationale de Basket, LNB) after 19 games ASVEL currently ranks sevenht with 10 wins and 9 losses.
ROSTER
In the beginning of October, 2010 during NBA lockout a San-Antonio Spurs top-star, best French player, Tony Parker signed a contract with the club. Moreover, Parker turned to be ASVEL joint owner and vice-president. He agreed to play for the symbolic salary of 1500 euros per month. Also the club was joined by Timofey Mozgov's New York Knicks ex-teammate Ronny Turiaf. Since the last Khimki — ASVEL meeting some changes has been made in the roster of opponent. In the end of January, 2012 the club was joined by Greek center Dimitrios Haritopoulos (207, 1983). As for young Amreican Jamie Skeen, he moved to Israeli Ironi Ashkelon.
The leaders of the club are French guard Edwin Jackson (11.2 ppg), Americans Dijon Thompson (11.6 ppg, 3.7 rebounds, 2.7 assists, 1.3 steals), Phillip Goss (8.6 ppg, 1.2 steals per game) and Hilton Armstrong (10.2 ppg, 5.5 rebounds per game).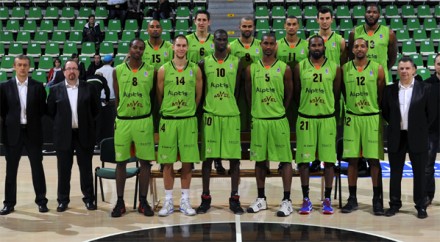 | № | Player | Position | Height | Birthday | Nationality |
| --- | --- | --- | --- | --- | --- |
| 5 | Hilton Armstrong | C | 208 | 1984 | USA |
| 6 | Paul Lacombe | G | 190 | 1990 | France |
| 7 | Leo Westermann | G | 196 | 1992 | France |
| 8 | Livio Jean-Charles | F | 204 | 1993 | France |
| 10 | Bangaly Fofana | C | 212 | 1989 | France |
| 11 | Edwin Jackson | G | 190 | 1989 | France |
| 12 | Dijon Thompson | F | 201 | 1983 | USA |
| 14 | Kim Tillie | F | 210 | 1988 | France |
| 15 | Phillip Goss | G | 186 | 1983 | USA |
| 18 | Dimitrios Haritopoulos | C | 207 | 1983 | Greece |
| 19 | Theo Leon | G | 180 | 1992 | France |
| 20 | Lambert Diacono | G | 196 | 1992 | France |
| 22 | Rudy Deal | F | 202 | 1992 | France |
| – | Gide Noel | F | 198 | 1993 | France |

Head coach: Pierre Vincent (France)