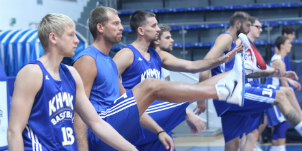 ‪BC Khimki‬ started preseason preparations after summer break. We are not in a full roster yet. Today our players from the first and second teams passed some physical tests under the guidance of new strength and condition coach Alejandro Garcia Toledo. The departure to Kranjska Gora, Slovenia is sheduled on Thursday, August 18.

Mr. Alejandro Garcia Toledo told our website about physical shape of our players and his expectations from work with Dusko Ivanovic:

"First I want to say that working with Dusko [Ivanovic] is a great opportunity for me as he's one of the best European coaches. It's a great challenge and it's a real pleasure to be here in Khimki working together. Khimki is a nice place. I'm here only for couple of days but it seems to be a great city and all around the gym is quite nice. As soon as possible I expect to visit more places around the city. With our team the most important part is that we go to Slovenia in couple of days where we'll have a lot of work to do that should help us to build the basis for a season. Then we'll try to keep the players in the best possible shape. It will help us to reach the goals that the club has. Today we have done some tests to measure the vertical jumps of our players, then to know the differences between jumping on one leg and another one. We should know the strength of each player to be able to work a little bit more to prevent form some danger and injures. Then we have made some measurements to know the speed of our lads".

BC Khimki assistant coach mr. Tane Spasev added some supplementary info about preseason preparations and his attitude to Dusko:

"I have known Dusko Ivanovic for a while and have a great respect for him as a coach and a person. Every time we talk a lot about basketball. Dusko is a great coach with great basketball mind who had good professional career as a player and as a coach. So I'm very excited to have a chance of working with him and learn from him. I'll try to help the team as much as I can with my experience. I followed Khimki's basketball a lot and know many things about the club. Now I became a part of this great organization. It's my pleasure to be here in a good city and great club. As Dusko said in the team meeting, Khimki has always had highest expectations and ambitions and it doesn't matter which league this team plays. This year is EuroCup and VTB League and we'll play each game like the last one in every tournament. Today we have started our preparations. We had a team meeting and a little bit testing on physical conditions. Tonight we'll have some basketball part and tomorrow we are also in Khimki. The day after tomorrow we are leaving the city heading to Slovenia, Kranjska Gora, for preparations. After that we'll be back to Khimki and then go to some tournaments in France, Lithuania and Spain".