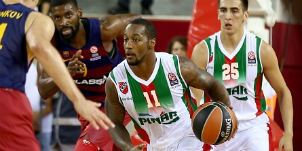 BC Khimki freshman Justin Carter commented upon his signing with our club and told us about his impressions and expectations from new country and new league.

Justin Carter is a remarkable player. Last season he managed to play in five (!) leagues in three different countries. He started season 2015/2016 with Turkish side Pinar Karsiyaka where he was one of the leaders (in the EuroLeague he averaged 14.1 points, 5.5 rebounds, 1.8 assists and 1.9 steals per game; in 3 EuroCup games he brought to the team 8.3 points, 2 rebounds, 1.3 assists and 1.0 steal; in the Turkish League he got 8.3 points, 2.8 assists and 2.4 rebounds). After New Year he signed with Guangdong Southern Tigers from China and played there 11 games with amazing stats as he averaged 17.7 points, 6.7 rebounds, 5 assists and 1.3 steals. He helped his team to clinch the play-offs semifinal. Then he moved to Bucaneros de La Guaira from Venezuela and in 14 games scored 16.1 points, 5.6 rebounds, 2.1 assists and 1.4 steals per game. He helped the squad to advance to the national league play-offs final.

Previously Carter played in Slovakia (BK Vahostav-SK Zilina) and Turkey (Vestelspor Manisa, Tire Belediye, Uşak Sportif, Galatasaray and Karsiyaka). He also attended Creighton University until 2010. It will be his seventh season in pro basketball.

"Yes sir, it's my 7th season. It is official just signed to BC Khimki. Let's get it", — Carter wrote in his twitter.

He also told our website about his feelings after signing contract with the club.

"I was really excited to get the news. Historically this is a great team and I'm ready to work hard for the club, — Carter admitted. — I'm just expecting to be very successful for the club this year and compete hard each game".

"The VTB League is very competitive and has great players", — BC Khimki freshman added. — It's one of the best leagues in Europe. I know Russia is very cold with beautiful cities. Coming here is a great opportunity for me and my family. I've heard great things about [Moscow] city".

Justin similarly shared expectations about playing in the EuroCup.

"I'm extremely ready to compete in the EuroCup. It's a great league and I know we'll go far. My goals are to stay healthy, always compete hard, win the VTB League and the EuroCup. I'm very excited for this season! It's a step forward to keep in the VTB and a big opportunity for me to learn from new players and coaches".