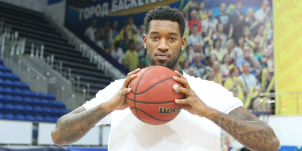 Today early in the morning BC Khimki novice Perry James Jones III landed in Russia and passed medical examinations in the afternoon. At the evening practice coach Ivanovic introduced Perry to his teammates. Tomorrow Jones with the team will go to Slovenia to the first preseason camp.

BC Khimki novice shared with us his first impressions about signing with the club, playing in Russia and expectations from new season.

"This is an exciting new stage in my career", Perry said.

"Being in Russia is a definitely new situation for me I've never been before. This is a new group of guys within the big team. For sure it will be good learn experience for me. I'm ready to get there and compete".

Jones told our website how will he adjust to European basketball.

"I think it takes a few days or even weeks. But I'm sure the coaches and everyone in the club will help me to adjust pretty quickly. I think it happens as soon as possible".

"What I know about Khimki is that it's a top team in Russia. I expect a lot of wins, getting better and grow as a player. We'll compete at a high level".

"It wasn't easy to make up my mind to go abroad cause you have to leave your family behind. At the same time it's a new journey for me, I'm optimistic about that and hope it's gonna be fun".

"Actually I don't know a lot about VTB League and EuroCup, but I just know it's a lot more physical than in the NBA. We'll have many nice games".

Also Perry said about his last season experience.

"I played in the D-League for Iowa Energy and it was a short season for me because I had an injury. I didn't play much. So now it's a new opportunity for me given by Khimki. And I'm excited about that".