Our team defeated Enisey Krasnoyarsk in a very tied game, held in Khimki — 72-64 (16-21, 19-17, 20-15, 17-11) with 23 pts by Alexey Shved. The next game BC Khimki will play in Lithuania vs. Lietuvos Rytas on Wednesday, November 16, 2016. Tip-off at 20:15 msk.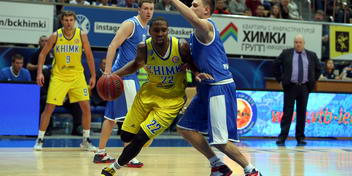 BC Khimki: Shved (23 + 4 assists), Rowland (15 + 5 rebounds + 3 assists), Monya (14 + 4 rebounds), Boungou-Colo (9 + 4 rebounds), Todorovic (7 + 5 rebounds), Evans (2 + 5 rebounds + 2 blocks), Vyaltsev (2 + 3 rebounds), Pullen, Brown, Ilnitskiy, Zaytsev, Sokolov

Enisey: Elegar (17 + 19 rebounds + 3 steals), Zavoruev (12 + 5 assists + 4 rebounds), Taylor (9 + 4 assists), Braimoh (8 + 4 rebounds), Pavlov (7), Koshcheev (7), Trushkin (4 + 4 rebounds), Wayns, Martynov, Vzdykhalkin, Lukashov, Kanygin.

POST-GAME

Dusko Ivanovic, BC Khimki head coach:

"We didn't start the game as we had to. Enisey is a very good team that has excellent shooters; very good on rebounding. If you don't play strong and concentrated against this team it can beat everybody. Tonight we had a chance because in the second half we changed the mentality and our defense. Because of this defense we won the game. In the first half we had many problems in the position offense and in the five on five situations. We needed a run to make easy baskets that turned to be easy to play. The game was very close as Enisey changed their offense and defense. They have very good guy in Elegar who closed the paint. In the first half we had 3 two-point shots out of 19. And it's very difficult to win a game with such percentage. We must improve it in future".

E.J. Rowland, BC Khimki guard:

"Enisey is a team that plays well right now. We didn't play well tonight. We had a lot of missed shots but at the same time we played enough defense to give ourselves a chance to win. We had stretches when we scored a little bit and got a little lead and finished the game. We knew that Enisey had a 7-0 stretch before this game; it's a talented team. We knew it wouldn't be easy. I mean we didn't play well during the game but we played well enough to win. That is the main and important thing. We didn't come out on defense as we need to but the season is long. Not every game is gonna be perfect but we have to find different ways every night".