Despite some injuries, BC Khimki did it best and scored a crucial home 7Days EuroCup win over ALBA Berlin — 88-77 (25-19, 19-25, 20-19, 24-14), that gave us first Group B place and Top 16 berth. The next game our team will play on Saturday, December 3, 2016 vs. Avtodor Saratov. Tip-off at 16:00.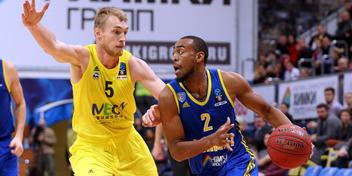 BC Khimki: Brown (19 + 2 steals), Boungou-Colo (18 + 5 rebounds + 5 steals), Pullen (13 + 3 assists), Ilnitskiy (10 + 10 rebounds + 4 assists), Zaytsev (9 + 5 rebounds + 3 assists), Vyaltsev (8), Todorovic (7 + 5 rebounds + 3 assists), Hummel (2 + 3 rebounds), Sokolov (2), Likhodey

ALBA Berlin: Kikanovic (22 + 5 rebounds + 3 assists), Johnson (18 + 5 assists + 4 steals), Milosavljevic (12 + 7 assists), Vargas (7 + 3 assists), Miller (5), Akpinar (5), Atsur (4 + 3 steals + 3 assists), Radosavljevic (2), Giffey (2), Gaffney.

POST-GAME

Ahmet Caki, ALBA Berlin head coach:

"I think today we played a good basketball game, except for the last seven minutes. We had offensive problems and couldn't organize our offense. We had so many turnovers that gave Khimki many easy baskets. Also we lost our desire to play physical defense and gave up offense rebounds. Khimki is an experienced team. Honestly, they played the whole game better. I believe tonight my players tried their best; they tried to play together, but we need to do it for 40 minutes. If you want to beat Khimki on the road, it's not enough to play 34 minutes. We need to do it for 40 minute".

Elmedin Kikanovic, ALBA Berlin center:

"It's tough to explain why we played in the end like we did it. Probably we lost concentration, which is very dangerous against such a team as Khimki. Our opponent punished us for that. Players like Markel Brown and Jacob Pullen could score the triples that they did. Brown did his best scoring two triples in a row that decided the game. I think we were a little bit tired. Our main point guard couldn't play, but Khimki also had problems with the roster. But they have a deeper bench and we felt that difference. The absence of one leader complicated the situation. We had a chance to win and clinch an automatic Top 16 spot, but failed. Now we'll prepare for the game with Lietuvos Rytas".

Dusko Ivanovic, BC Khimki head coach:

"We knew that it would be a very tough game because tonight Shved, Monya, Evans and Rowland couldn't help us. The first 30 minutes we didn't play aggressively as we had to. The last seven-eight minutes were really good and aggressive and because of that aggression we won. We don't know how much time we need to recover the injured players. We'll see day by day".

Markel Brown, BC Khimki guard:

"Very tough game. We played against a very good team. It was a must win for us, very important to clinch first place in our group. In the second half we found the way to do it. In the middle of the game we couldn't sway back from what we were doing and stopped being aggressive. In the fourth quarter we put pressure on our opponent that made them turn the ball over and we converted in some good transitions. I felt good tonight. After I made the first shot, I had to take the shot when I was open; it gave us a good lead. Our team was able to hold on to the end. Best game overall. I got a chance to go out there and make some shots. My coach and teammates believed in me; we found the way to win".