In a high offensive game BC Khimki managed to keep home court advantage and defeated Montakit Fuenlabrada with a comfort lead — 96-84 (27-25, 31-25, 21-18, 17-16). The next game our team will play in Minsk on Saturday, November 26, 2016 vs. Tsmoki-Minsk. Tip-off at 15:00 msk.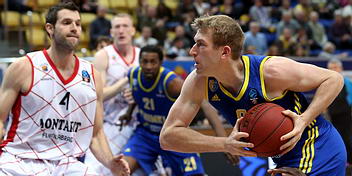 BC Khimki: Pullen (20 + 3 assists), Shved (19 + 8 assists + 3 rebounds), Todorovic (15 + 9 rebounds), Boungou-Colo (14 + 3 rebounds + 2 steals), Evans (10 + 5 rebounds), Brown (9), Hummel (5 + 6 rebounds), Rowland (2 + 4 assists), Ilnitskiy (2 + 2 steals), Likhodey, Vyaltsev, Zaytsev

Fuenlabrada: Smits (21), Cruz (15), Paunic (10 + 3 rebounds), Rupnik (7 + 3 assists), Diagne (7 + 3 rebounds + 2 steals + 2 blocks), Wear (7 + 3 rebounds), Rey (6), Hakanson (4 + 7 assists), O´Leary (4 + 4 rebounds), Llorca (3 + 4 rebounds + 4 steals), Gonzalez.

POST-GAME

Jota Cuspinera, Montakit Fuenlabrada head coach:

"First of all, congratulations to Khimki. It was a very tough game for us. I think Khimki is a EuroLeague-level team. Maybe in the first two quarters we respected them too much and left a little bit of distance on defense and tried not to press us as we should. It's true that my assistants and me asked my team to be more aggressive; that was not an easy thing against these great players. They have so much talent as they can beat you every time; they find passes and do many different good things. In the second half we tried to alternate different kinds of defenses; we made them doubt and hesitate a little bit, but probably our missed free throws and two fast breaks could have made us even closer in the game. We missed them and it's very difficult to play against such a good team on the road and make up a distance of 10 points. I'm glad that in the second half we didn't let them score easily as they did in the first, but I have to congratulate Khimki. They played a great game. It's a fair result because they were better than us".

David Wear, Montakit Fuenlabrada forward:

"We knew from playing with Khimki the previous time that they are very talented both offensively and defensively. We also knew it would be a high offensive game, especially coming here to Moscow and playing in the extremely tough environment. But I think we have to hold our heads up high because they are a very good team and we gave them a battle. We kept them close and fought all the time. We gave up 58 points in the first half and let them score less than 40 in the second. Of course, we missed Marko Popovic as he's a very experienced player and played here for two seasons. He knows this environment. With his leadership and ability it would be nice to have him tonight".

Dusko Ivanovic, BC Khimki head coach:

"We didn't start this game well. Nevertheless we played with energy and aggressively. We won because of great offense, but if you play against a mobile team such as Fuenlabrada, it's tough to win only due to your offense. We have to play confidently in defense and this point is to be improved. Our new players, I mean Evans, Hummel and Brown, need some time to get into the rhythm. At the same time they played well enough tonight and brought energy to the court. I'm sure in future they will be very important elements in our team".

Jacob Pullen, BC Khimki guard:

"It was a lot of offense tonight and both teams shot the ball well. We just made some plays in the end and surely won the game. It was a good matchup. I made some shots. In last two games I didn't make a lot, but the coach let me play and I made some shots. For the most part I did what I have to do. Our defense wasn't great, but we got stops when we needed and didn't let them go further on offense. For the most part we played better defense against better teams and were able to get a win tonight. Fuenlabrada played well; they shot the ball and were aggressive. They've been doing well in the EuroCup, so for us it's a good win".

Markel Brown, BC Khimki guard:

"I felt like as a team. We played hard and gave it all we had. Pretty solid on defense, we did it good effort of helping each other; helping our bigs whenever they helped us. I think, overall we played a complete game. As for defense, we did what we could do to contain their players. They have a pretty good team over there. We did the best that we could on defense but tonight our offense much better. We were able to get a comfortable lead and keep it".