On Wednesday BC Khimki will start the regular stage of Euroleague! The first opponent of our team is Polish Champion Asseco Prokom. The meeting will begin at 20:00.
On the eve of the start of Euroleague regular phase BC Khimki head coach
Sergio Scariolo
answered the questions of the correspondent of the Euroleague official website www.euroleague.net. We offer you a fragment of this interview. All the video can be viewed on
Euroleague TV.
Sergio Scariolo: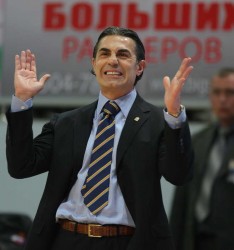 – We have entered Euroleague after qualifying rounds. We are very happy, but the real battle is beginning now. Initially, the club's goal is to get into TOP-16. Just reaching this result, we will think about new problems.
This summer we had an impressive selective campaign. The departure of Timofey Mozgov overseas to NBA we have compensated by highly qualified players – Kreshimir Loncar, Aleksey Savrasenko and Benjamin Eze. Also Sergey Monya, Thomas Kelati, Zoran Planinic and Vadim Panin came to BC Khimki. All the newcomers have valuable experience of playing in top different teams.
This season we are working to be a good defensive team. For this purpose we have developed a special program, which should help all the players to communicate and understand each other on the court better. In the meantime, we are far from optimal conditions, and we have something to strive. In every meeting we have to look as a unit, as a TEAM in in the full sense of the word.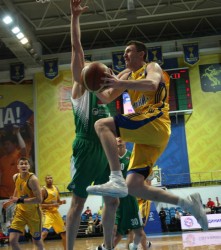 – We know Asseco Prokom quite well, – BC Khimki captain
Vitaly Fridzon
said. – It turns out that with this team BC Khimki has played quite often in recent years. And this season we'll meet in the group stage of two tournaments – Euroleague and United League VTB. I think it is not bad: Prokom is a great rival, and the fans will see beautiful basketball. Maybe during this time we will get used to each other, but that does not mean that we will not be able to surprise the rival. As BC Khimki as Prokom are the teams of a very high class. We know that our opponent has been the champion of Poland during last seven years. In addition, the team managed to preserve the backbone of the leaders: German forward Jan-Hendrik Jagla and ex-BC Khimki players – a center Ratko Varda and a point guard Daniel Ewing. Their capabilities are well known to us. And a young coach Tomas Pacesas, played in Russia, has proved to be great on the "captain bridge". So at the start of Euroleague we are preparing for a serious fight.
Watch a live broadcast on NTV Plus Sport at 19:30 Moscow time
.
VISITING CARD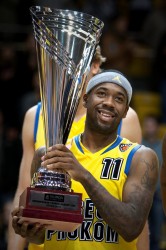 Asseco Prokom Gdynia (Gdynia, Poland)
Leagues:
Polska Liga Koszykówki (PLK), Euroleague
Founded:
1995
History:
Prokom Trefl (1995-2008), Asseco Prokom Sopot (2008-2009), Asseco Prokom Gdynia (2009-present)
Arena:
Gdynia Sports Arena (capacity: 5,000)
Location:
Gdynia, Poland
Team colors:
Yellow and Blue
President:
Przemysław Sęczkowski
Head coach:
Tomas Pačėsas (since December 1, 2007)
Achievements:
Polish Championship (7): 2004-2010
Polish Cup (4): 2000, 2001, 2006, 2008
Website:
www.asseco.prokom.pl
RECENT RESULTS
Polish Supercup. October, 6
Asseco Prokom
– AZS Koszalin – 89-78 (26-26, 21-19, 25-8, 17-25)
Polish Championship. October, 8
Zastal
– Asseco Prokom – 76-61 (22-18, 17-22, 27-8, 10-13)
VTB United League. October, 10
Azovmash
– Asseco Prokom – 80-76 (22-12, 22-26, 14-18, 22-20)
Polish Championship. October, 13
Asseco Prokom
– Polonia – 81-53 (15-11, 28-11, 21-16, 17-15)
VTB United League. October, 16
VEF-Riga –
Asseco Prokom
– 63-76 (15-21, 17-23, 12-16, 19-16)
TEAM ROSTER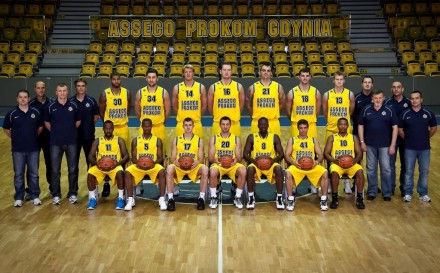 | № | Player | Position | Height | Birthday . | Nationality |
| --- | --- | --- | --- | --- | --- |
| 5 | Daniel Ewing | G | 191 | 1983 | USA |
| 10 | Michael Wilks | G | 178 | 1979 | USA |
| 11 | Bobby Brown | G | 188 | 1984 | USA |
| 13 | Mateusz Kostrzewski | F | 201 | 1989 | Poland |
| 14 | Jan-Hendrik Jagla | F | 213 | 1981 | Germany |
| 16 | Adam Łapeta | C | 217 | 1987 | Poland |
| 18 | Robert Witka | F | 205 | 1981 | Poland |
| 41 | Iwo Kitzinger | G | 183 | 1985 | Poland |
| 20 | Piotr Szczotka | F | 196 | 1981 | Poland |
| 21 | Ratko Varda | C | 213 | 1979 | Bosnia |
| 30 | Ronald Burrell | F | 204 | 1983 | USA |
| 34 | Adam Hrycaniuk | C | 206 | 1984 | Poland |
| 8 | Filip Videnov | F | 196 | 1980 | Bulgaria |
| 4 | Justin Ray Giddens | G | 196 | 1985 | USA |