On Tuesday, BC Khimki went to Belgrade, where on Wednesday it will play a match with the most titled Serbian club — Košarkaški klub Partizan. The beginning of the meeting — 22:45. See a live broadcast on channel "NTV Plus Sport".
EXCHANGE OF OPINIONS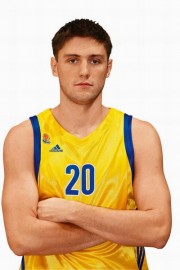 Vadim Panin:
— Within the bounds of Euroleague I'm going to Serbia for the first time, although I was in this country earlier. Directly with Partizan I haven't ever met. Partizan is a very good and balanced team.
I can't but mention about the well-known throughout all Europe Serbian fans who literally "give birth" to their favourites. Everyone who has ever played in this country, says about a very heavy atmosphere during the matches. And for us this match will not be a cakewalk of a job. Despite everything, we are ready to fight.
In Partizan roster there are a lot of young players, but it will be difficult to confront them. On the road it will be hard without support of our fans but we will do everything to win, especially since then we have a lot of games at home.
As for my adaptation in BC Khimki, I can say the following: here I am assigned a slightly different role than in my former teams, but I'm getting used to all the conditions. And my partners help me in every way! BC Khimki is a great team, it demonstrates a different level of basketball, the speed is higher and the players are more experienced.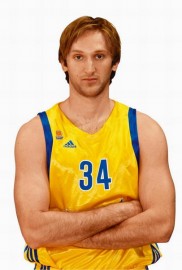 Zoran Planinic:
— I had an experience of playing with Partizan, even being in CSKA. Their roster has changed but the mentality is still the same: they are very aggressive team, especially at home. And for sure their fans will be an important factor in the game – they really are the sixth, the seventh and the eight players as well. Serbian fans are well known all over Europe: as in football matches, as in basketball ones they are really vehement.
We'll try to be calm, have cold heads and not to make mistakes. This match is crucial for us, particularly on the road. Last season I saw some games with Partizan in Euroleague and I can say it played equally with the European grands, reached the Final Four and lost often only in overtimes. I'll try to do all my best to help BC Khimki win the game. The value is too high!
GAME NOTES
Zoran Planinic needs just 5 more points to reach 1,000 for his Euroleague career.
Ben Eze blocked 3 shots last week against Asseco Prokom to move into the top 10 on the career list of Euroleague shot blockers. Eze has blocked 91 shots, tying him with injured CSKA Moscow forward Viktor Khryapa for ninth place. Tiago Splitter is in eighth place with 93 career blocks, however Barcelona big men Terence Morris (90) and Erazem Lorbek (89) are close behind.
Raul Lopez has at least 1 steal in each of his last 10 Euroleague appearances.
Vitaly Fridzon has made at least 1 three-pointer in each of his last nine Euroleague games.
VISITING CARD
Košarkaški klub Partizan (Belgrade, Serbia)
Nicknames:
Crno-beli (Black and Whites), Parni valjak (Steamroller)
Leagues:
Serbian League, Adriatic League, Euroleague
Founded:
October 4, 1945
Arena:
Pionir Hall (capacity: 8,150)
Location:
Belgrade, Serbia
Team colors:
Black and White
President:
Predrag Danilović
Head coach:
Vlada Jovanović
Titles
Euroleague:
1 (1991–92)
Euroleague "Final Four" participations:
4 (1987–88, 1991–92, 1997–98, 2009–10)
Korać Cups:
3 (1977–78, 1978–79, 1988–89, runners-up 1973-74)
National Championships:
17 (1975–76, 1978–79, 1980–81, 1986–87, 1991–92, 1994–95, 1995–96, 1996–97, 2001–02, 2002–03, 2003–04, 2004–05, 2005–06, 2006–07, 2007–08, 2008–09, 2009–10)
National Cups:
11 (1978–79, 1988–89, 1991–92, 1993–94, 1994–95, 1998–99, 1999–00, 2001–02, 2007–08, 2008–09, 2009–10)
Adriatic Championships:
4 (2006–07, 2007–08, 2008–09, 2009–10)
Double Crowns:
7 (1978–79, 1991–92, 1994–95, 2001–02, 2007–08, 2008–09, 2009–10)
Triple Crown:
1 (1991–92)
Website:
kkpartizan.rs
SEASON 2010/2011
Euroleague, Game 1
21.10.2010 Zalgiris — Partizan mt:s — 73-62
NLB LIGA
09.10.2010 Partizan mt:s — Buducnost m:tel — 78-79
13.10.2010 Partizan mt:s — Hemofarm Stada — 77-66
16.10.2010 Siroki TT Kabeli — Partizan mt:s — 86-79
24.10.2010 Partizan mt:s — Cedevita — 80-72
ARENA AND FANS
The "Pionir" arena was built in 1973 in just 11 months, by the "Energoprojekt" construction company. Basketball in Yugoslavia was then in full swing and although Pionir hosted many different sport events (volleyball, handball) it quickly became known as basketball sanctuary. Partizan moved in the Pionir in 1992 after their old hall Hala sportova became obsolete for a club that was about to take the European throne. The Pionir is today a modern, fully equipped facility that can successfully meet the basic standards of European competition.
Several Partizan fan groups organized one movement, called the "Southern Grobari" ("Gravediggers"). So zealous and stuck on their club fans is hard to find in any other country.
TEAM ROSTER
| № | Player | Position | Height | Birthday | Nationality |
| --- | --- | --- | --- | --- | --- |
| 7 | Dušan Kecman | Guard | 197 | 1977 | Serbia |
| 8 | Jaka Klobučar | Guard | 198 | 1987 | Slovenia |
| 10 | Nemanja Jaramaz | Guard | 201 | 1991 | Serbia |
| 11 | Vladimir Lučić | Forward | 202 | 1989 | Serbia |
| 12 | Dragan Milosavljević | Guard | 198 | 1989 | Serbia |
| 13 | Bogdan Bogdanović | Guard | 198 | 1992 | Serbia |
| 14 | Raško Katić | Center | 208 | 1980 | Serbia |
| 15 | Nathan Jawai | Center | 208 | 1986 | Australia |
| 18 | Nemanja Bešović | Center | 219 | 1992 | Serbia |
| 19 | Aleksandar Mitrović | Guard | 201 | 1990 | Serbia |
| 20 | Petar Božić | Guard | 197 | 1978 | Serbia |
| 24 | Jan Veselý | Forward | 210 | 1990 | Czech Republic |
| 31 | Branislav Đekić | Forward | 207 | 1991 | Serbia |
| 4 | Oliver Lafayette | Guard | 188 | 1984 | USA |