On Sunday morning a Denver Nuggets 216-cm-center Timofey Mozgov visited the training of our team and talked about his impressions of the journey to home.
Timofey Mozgov:
— When I was at Alexander Gomelskiy Universal Sport Hall CSKA, I didn't have enough chances to communicate with the guys — just managed to congratulate them on their brilliant victory. I was also very pleased with this success. That's why on Sunday I decided to get to Basketball Center by the end of the morning training.
I won't dissemble: for sure, I was immediately captured by nostalgia. Pleasant sensations — how many memorable moments happened at this court! And very unusual feelings as well — it is interesting to be here, having emotions and memories from American basketball behind myself.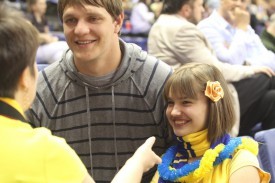 I was very happy to meet all the guys — the players and coaches, doctors and the club's officials. While the boys were dressing up, I picked up the ball and even scored a three-pointer throw. Although not from the first attempt. Anyway — Moscow Region hoops still remember me (
laughs
).
Then I had lunch with Vitaly Fridzon, Sergey Monya and Slava Zaytsev. Finally we had a talk. I wished the guys good luck on Monday. Of course, I will be at the game.
By the way, on May 21, Saturday, at 13.30 msk in the Basketball Center I will hold a masterclass for Khimki students and athletes of Olympic Reserve School and city's SDYUSSHOR of basketball. I will be glad again to meet the fans as at the match at Alexander Gomelskiy Universal Sport Hall CSKA I had not much time for communication. I would like to tell everyone thanks for the warm welcome!