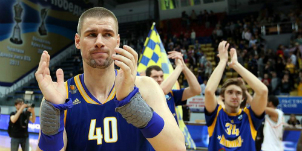 Center Paul Davis (31) retired from professional basketball after four seasons with BC Khimki, the player announced today. We sincerely thank Paul for all his effort, charisma and great leadership during all these years! Thank you, Paul! And good luck in future!

Paul joined our team in late May, 2012 and established himself as a great professional, responsible and serious for each game and every training session. Also he proved to be a reliable partner and a great person. During these four seasons Davis manifested himself with the brightest side. His best game in BC Khimki jersey was against Belgian side Oostende in October 2013 (32 points and 7 rebounds). In season 2015/2016 Davis took part in 23 games, averaging 9.6 points, 3.7 rebounds and 1.1 assists. Thank You, Paul!

Paul Davis left a message to the fans of our team.

Paul Davis, BC Khimki center:

"When I started at Khimki I didn't realize how great the club was or could be. It meant more every year I was in Khimki to help the club grow for the fans and the future. Most of all I liked my teammates through the years. The Russian players and fans welcomed me with great attitude and I made life long friends. The city of Moscow is great. It will always be a second home. I just want to say thank you to the fans for sticking with me through the years and my injuries. I literally gave have everything I had to Khimki and the fans were always behind me all the way. A lot of it was bad luck with injuries. I always tried to give everything I had every game and I think it showed. My favorite memories were in the locker room and traveling with the team. I always liked home games and coming into the arena with our fans. And of course winning the Eurocup on the Khimki floor. I'll remember the city and people of Moscow. The support of the fans and colors blue and yellow I'll keep forever. I am retiring from sports. My body cannot play anymore even though my mind could. Right now I will just enjoy being around family and friends and start to be a fan of sports instead of a player. Thanks. Paul".