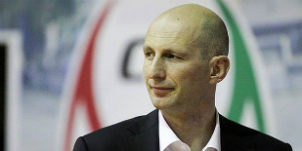 Our team's coaching staff is changed. In season 2016/17 Tane Spasev and Drazen Oreskovic will assist head coach Dusko Ivanovic. Spanish specialist Alejandro Garcia Toledo will be responsible for strength and condition preparation of our players.

Macedonian specialist Tane Spasev (20.08.1977) came to BC Khimki from Polish side Asseco Gdynia, where he worked as a head coach of youth (2014/15) and first (2015/16) teams. In season 2013/14 Spasev worked in SC Kryvbas Kryvyi Rih (Ukraine-Superleague) and Turk Telekom Ankara (Turkey-TBL). Also he headed Macedonian and Syrian national youth teams and won several championships with them.

Croat Drazen Oreskovic (17.02.1981) came to Khimki from Croatian club Cedevita where he worked as assistant coach during four seasons. He graduated from University of Zagreb, Faculty of Kinesiology and got a Master's Degree in Sport Science. Oreskovic also worked as KK Zagreb assistant coach, Dusko Ivanovic's assistant in Boznia and Herzegovina national team and Croatian national team (from 2016).

Spaniard Alejandro Garcia Toledo (06.05.1983) will be responsible for strength and condition preparation of our players. He was born in Madrid, Spain and graduated from Universidad Politecnica de Madrid with a Bachelor's degree in Sports Science. Also he has a Master's degree in Athletic Training and Nutrition from Real Madrid School — Universidad Europea. In 2007 he started his pro career in women clubs (Ibiza, Salamanca) and then came to Valencia. From 2014 to 2016 Alejandro worked in Estudiantes.

Dusko Ivanovic, BC Khimki head coach:

"First of all, I would like to thank my former assistsants Andrija, Jenaro and Aleksandar Lukman as well for their excellent job in Khimki. But I need a change in this team. I chose the coaches I know and who can put their ambition to do a good job. I have confidence in them and I believe in them. Hopefully they will succeed in Khimki. My first assistant, Tane Spasev, is a young and ambitious coach who did excellent job last year in Poland. With Drazen Oreskovic I worked in Bosnia and Herzegovina national team. Last year he also did a great job in Cedevita and now he is with Croatian national team. Alejandro Garcia Toledo did his job in Spanish leagues. He is a professor in University and has ambitions to work with the club. This is exactly what I need".

Tane Spasev, BC Khimki assistant coach:

"It is my great pleasure to be a part of the Khimki family and I am looking forward to meeting all of you soon. Last two seasons I spent in Poland as Asseco Gdynia head coach. As for Khimki, it is a well-known name and respected organization that brings certain recognition to everyone's name. I know Dusko Ivanovic for a while now and my respect for him as a coach and as a person is at the highest level. I am sure that working with him will be a joyful, teachable and successful daily routine".

Drazen Oreskovic, BC Khimki assistant coach:

"I am proud to sign with a great team BC Khimki. Now I have an obligation to be the best possible. Working with coach Ivanovic is a great privilege and great experience for me".

Alejandro Garcia Toledo, BC Khimki strength and condition coach:

"Joining Khimki and being able to work with Dusko Ivanovic supposes a great challenge in my professional life. Coach Ivanovic is one of the best basketball coaches and Khimki is a great European club, so I can not wait to start training. I will give my best trying to achieve the goals of the club for the next season."