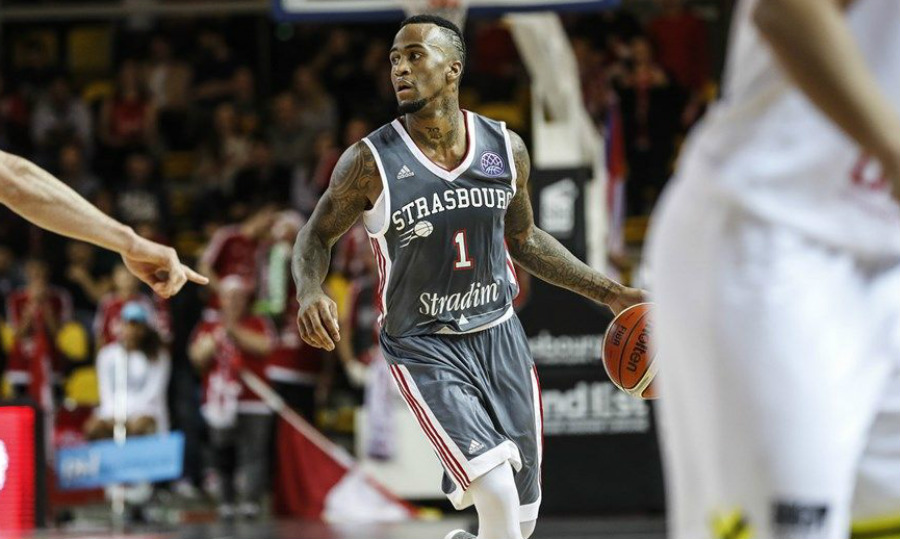 Photographer: FIBA
American point guard Dee Bost, who played last season for French side SIG Strasbourg, signed a one-year contract with BC Khimki. Welcome to the club, Dee!
Georgios Bartzokas commented upon the signing of Bost.

Georgios Bartzokas, BC Khimki head coach:

"Bost is in a very good age; he is a player who can play at both ends. At the same time, Dee is a very good defender and creator. He is a point guard, who can play set offense and also run the court fast. He has a great motivation to prove that he can be at the highest level. As a coach in the past I played many times against him; also, I tried to sign him when I was in FC Barcelona. So, right now we'll have an opportunity to work with him, and I'm very happy about this".

Dee Bost, BC Khimki guard:

"I am truly honored to sign for BC Khimki and play for a coach like Bartzokas. Just want to thank him and management for this opportunity. I expect to work hard and win games. One day and one game at a time to get better. I've never played in the VTB League but I know there are some good teams in the league".

Demarquis "Dee" Bost

Birthday October 12, 1989
Position – Point guard
Height – 188 cm.
Weight – 80 kg.
Nationality – USA/Bulgaria

Sports career

Teams played:
2008-2012 – Mississippi State (NCAA, USA),
2012-2013 – Buducnost Podgorica (Montenegro),
2013-2014 – Idaho Stampede (D-League, USA),
2014 – Trotamundos de Carabobo (Venezuela),
2014-2015 – Trabzonspor (Turkey),
2015-2016 – Stelmet Zielona Gora (Poland),
2016-2017 – Monaco (France),
2017 – Zalgiris Kaunas (Lithuania),
2017-2018 – SIG Strasbourg (France),
Since 2018 – BC Khimki

Achievements:
2009 – SEC All-Freshman Team (NCAA, USA),
2010 – Second-team All-SEC (NCAA, USA),
2011 – Second-team All-SEC (NCAA, USA),
2012 – First-team All-SEC (NCAA, USA),
2013 – Montenegrin League champion,
2014 – NBA D-League All-Star, NBA D-League All-Defensive Third Team,
2016 – Polish League champion, Polish League Finals MVP,
2017 – Leaders Cup winner,
2018 – French Cup winner

In season 2017/2018 Bost played 26 games in French League, averaging 12 ppg, 5.7 assists, 3.3 rebounds and 1.6 steals in 28 minutes. In FIBA Champions League he played 10 games, averaging 14.1 ppg, 6.2 assists, 4.7 rebounds and 1.9 steals in 31 minutes.