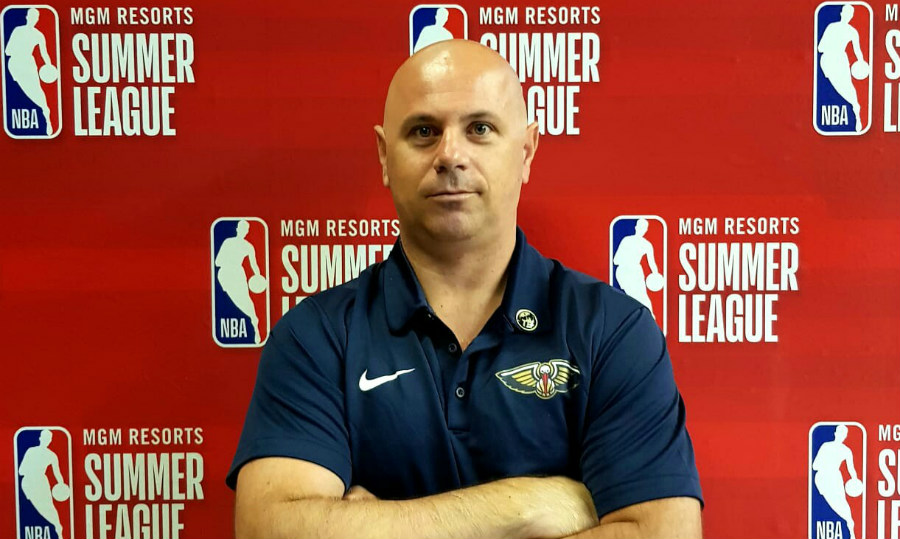 Photographer: Georgios Bozikas
BC Khimki assistant coach Georgios Bozikas took part in 2018 NBA Summer League that took place in Las Vegas, USA from July 6 to July 17. He worked in the coaching staff of New Orleans Pelicans.
Georgios Bozikas commented upon this experience and shared his impressions.

Georgios Bozikas, BC Khimki assistant coach:

"I had a chance to see all the facilities of the Pelicans which was very impressive. The facilities in the NBA are very important; they have their own training gym and all the staff there. Actually, it's very different than in Europe. So, I met the team there and had an opportunity to meet the coaching staff of the Pelicans, have interesting conversations about the differences between the EuroLeague and the NBA, or about players. The truth is that lately NBA is very aware and interested in the EuroLeague which they respect a lot. They know it's a very competitive and strong league. Also, it's a new market for them to choose players. For example, Pelicans have in their roster couple of players who used to play in the EuroLeague, like Mirotic and Miller. Also, we had very useful conversation with the Pelicans head coach Alvin Gentry and his assistant coaches Chris Finch and Darren Erman. We were talking about the season we had, about our and their philosophy. It's interesting that I saw a very similar way we work basketball and coaching wise. So, we have many things in common. Now, with the new format of the EuroLeague, Europe adjusted to this new of practices. I think, now these two leagues are very similar".

Also, Georgios spoke upon European market that every year provides NBA clubs with the constantly growing number of players.

"It's true. I said that basketball wise we are very close. Europe is a very competitive environment and a very demanding place for a player. So, all the players are developing their game trying to be ready for the NBA. For example, as we see now Luka Doncic who is only 19 years old but also has a two-year experience in the highest competition with a very important club. So, he has more experience than any other 19 years old American player. It's an important point. As for marketing, we know that NBA is another level of money. They offer more money to the players; this is anything that we cannot change. Eventually, all the clubs will have the same amount of players to fit to the NBA, so all other will be out searching for the opportunities to play in Europe and develop their game there. The most important is to be aware of the market and follow the players. As we saw last year from Anthony Gill, he was a player who nobody knew about, but he played excellent and was competitive becoming a highest-level prospect".

Bozikas' side, New Orleans Pelicans, managed to win two games out of three but lately it lost to Miami Heat in the first round.

"We started very well and had a very competitive team. It was a combination of US colleges prospects, players from Pelicans roster who needed more experience to play the games, and players from Europe, like Chasson Randle who played for Real Madrid last season, or like Shavon Shields who played in Trento and signed with KIROLBET Baskonia recently. The only problem is that our best player was injured in the first game, and we had a couple of injuries next games. Finally, we lost in the playoff game against Miami Heat, the team that we had already won by 20 points in the first game. But this is the Summer League where the results are not so important. All that matters is that you have an opportunity to take a look on the market, meet new players and see thaie abilities. Also, I had a chance to meet very interesting persons and share opinions about basket, market and take information about all the situation in European and American basketball".

At the end, Georgios summed up his experience and pointed out the importance of such practice.

"It was a great experience for me. First of all, one more time I had an opportunity to visit the facilities of one NBA organization. It was very important to see that basketball team is not only the roster and players, but everything around them. All the organizations in the NBA have at least 10 or 12 coaches, medical staff and everybody else. So, we are talking about 12 players and 25 persons around them. So, I saw how everything was organized, and how it is important not only to have the players but also to provide them with a good environment. Also, I had a chance to meet two assistant coaches of the Pelicans, I mean Chris Finch and Darren Erman, highly qualified specialists who have too much experience in the NBA. Chris Finch worked in Europe, as well. For me it was very important to see how they work, how they think, how they adjust to the differences. Overall, it was a very good experience. At the end, in Las Vegas I saw all the teams and all new players coming both from NCAA and Europe".