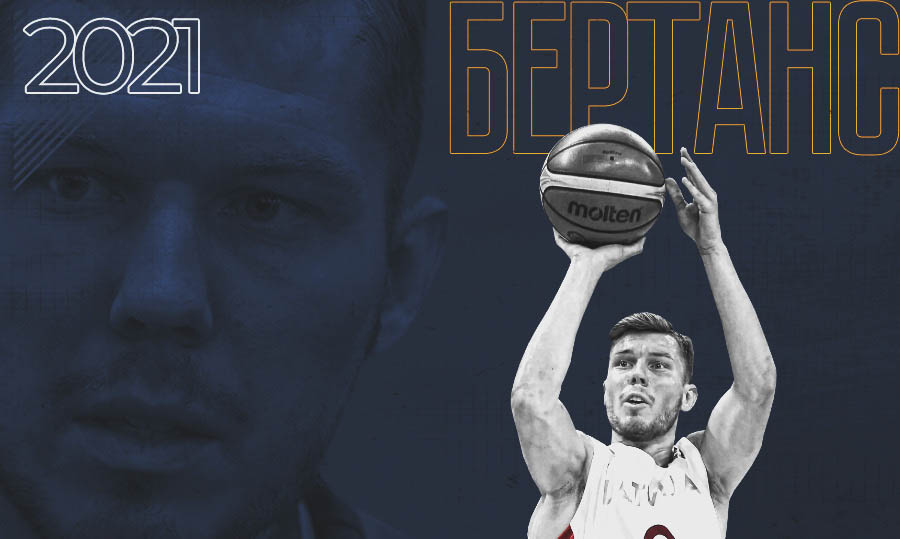 Latvian guard Dairis Bertans, who last played for Italian side AX Armani Exchange Milan and NBA team New Orleans Pelicans, signed a two-year deal with Khimki Moscow Region. Welcome to the club, Dairis!
Rimas Kurtinaitis, Khimki Moscow Region head coach:

"I've known Dairis for a long time, since I worked at VEF Riga, when he came to me from Ventspils. Then I changed his position from the shooting guard to the point guard, and it was a mutually successful decision. Dairis got new experience, learned to see and understand the game better that gave him an impulse for career development. Now I see him primarily as a shooting guard, but the season is long, and no one is immune from injuries, so if necessary, he can take on the role of a point guard. He is a good shooter, he has excellent three-point percentage in the EuroLeague, he is fast and has a strong character. This is a special feature of the Latvian players, as you have already noticed by Janis Timma, they are real fighters".

Dairis Bertans, Khimki Moscow Region guard:

"I am happy to become a part of Khimki and play under the guidance of Rimas Kurtinaitis. I have already worked with him in VEF Riga, and the coach has done a lot to develop my career. I am glad that I will play in such a combat-ready, strong team and solve big problems with it".

Dairis Bertans

Birthday — September 9, 1989
Position – Shooting guard
Height – 193 cm.
Weight – 91 kg.
Nationality – Latvia

Bertans led the Turkish Airlines EuroLeague in three-point accuracy last season at 53.6% with AX Armani Exchange Olimpia Milan. He averaged 6.4 points with 37 three-pointers made in 22 EuroLeague games before leaving midway through the season. Bertans finished the campaign with New Orleans of the NBA, where he averaged 2.8 points in 12 games.

Sports career
2004-2006 – Valmiera (Latvia),
2006-2009 – ASK Riga (Latvia),
2009-2010 – Ventspils (Latvia),
2010-2013 – VEF Riga (Latvia),
2013-2016 – Dominion Bilbao Basket (Spain),
2016-2017 – Darussafaka Dogus Istanbul (Turkey),
2017-2019 – AX Armani Exchange Olimpia Milan (Italy),
2019 – New Orleans Pelicans (NBA, USA),
Since 2019 – Khimki Moscow Region

Achievements:
2009 – Latvian League champion
2011 – Latvian League champion
2012 – Latvian League champion
2013 – Latvian League champion
2017 – Italian Supercup winner
2018 – LBA champion, Italian Supercup winner

2011, 2013, 2015, 2017 – Eurobasket participant with Latvian national team.