The third match of Quarter final between BC Khimki and Dynamo Moscow Region passed at the "Triumph" of Lyubertsy. In the first quarter Khimki made a request for scoring a victory Only in second period and in the ending of the game Dynamo could offer stubborn resistance. As a result our team won 90-79 (30-17, 20-25, 19-11, 21-26). The fourth game will pass on 11 may at Lyubertsy.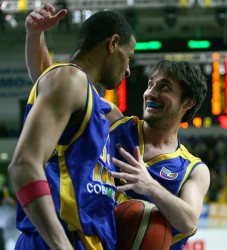 Top Scorers
: McCarty (21), Veremeenko (12), Wolkowyski (12), Lampe (11).
The starting five of BC Khimki differed from usual: there were Booker, Savkov, McCarty, Veremeenko, Lampe. First minutes Dynamo was good at having rebounds and came forward by points. Coming up to the end of the period Macej Lampe had 3-pointer to his credit and Khimki scored 22-13. Savkov demonstrated very inspired and constructive game and he was top scorer of away side at that moment. The Dyachok s breakthrough after the rebound was an effective point of the first period.
In the second period Pozzecco moved the game and Dynamo dropped behind 17 points. The opponent coach called a minute down town and after this Dynamo pulled off a run – 7-0. In reply to this, Savkov surged through, Veremeenko scored a slumdunk and McCarty had a three-point play.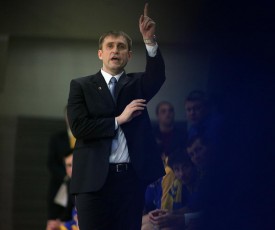 The second half-time is opened by Lampe s goal while Fridzon can't collect his first points, but he was good at defense. Booker was substituted after receiving third foul. Kemzura called a time-out. The result of this pause was great. Khimki scores an advantage over the rival more than 10 points. Dynamo couldn't expect to win this match. After two strong games in Khimki, our team posted an easy victory.
Post Game Coach Comments
Khimki Coach
Kestutis KEMZURA
:
— Predictably the match was difficult. We didn't make many mistakes, were good at defense, and rebounded well. But I am dissatisfied by the ending of the match. We shouldn't play in a slipshod manner. We must respect our fans. I want to emphasize good play of McCarty, Vermeenko, Pozzecco and Savkov. But today all the players played efficiently. Now we are preparing to put this series away tomorrow.