BC Khimki had a great start but eventually lost to CSKA Moscow in the first EuroLeague 1/4 finals game — 95-98 (34-25, 20-21, 21-26, 20-26), Shved scored 22 pts, Vyaltsev added 21 pts. CSKA took a 1-0 lead. Game 2 will be played on Thursday, April 19, 2018 in Moscow. Tip-off at 20:00 msk.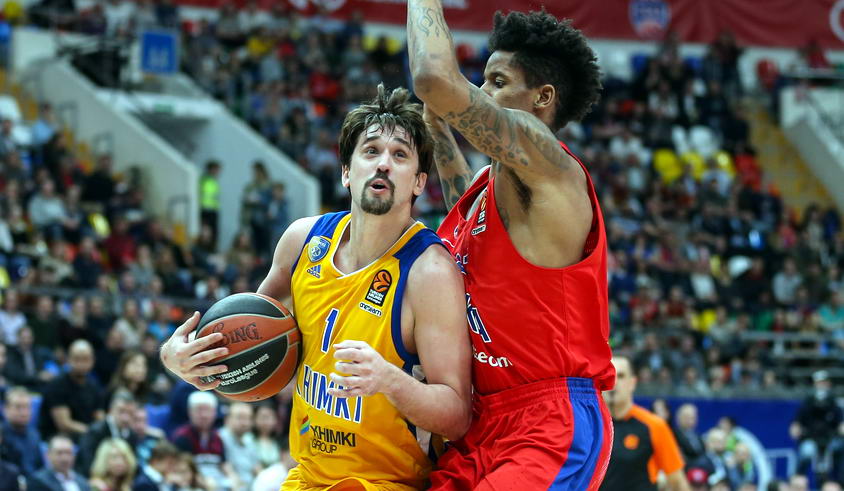 POST-GAME

Georgios Bartzokas, BC Khimki head coach:

"It was a typical playoff game for the EuroLeague at this level. Good basketball for both teams. For us I think we had chances to win this game. Something that we asked before the game was to fight and be competitive and we were. But we had chances to win this game if we were more consistent in some parts of the game like defensive rebounding, which was a key for this game. We gave them a lot of second chances and they punished, I think they made 22 points in the second half because of this".

James Anderson, BC Khimki guard:

"What we did was a part of the plan. Unfortunately, we came up short tonight. [In the end] we lost some offensive rebounds that were a big part of the game tonight, something we have to go back and fix to win the next game. We have to put more effort in; the guards have to get more rebounds to help the bigs. We just have to go and fight to get it done".

Egor Vyaltsev, BC Khimki guard:

"This is real playoff basketball that started right now. There is no right to make mistakes. Today we showed great basketball for 39 minutes. We gave CSKA a fight, but in the end fell a little bit with some mistakes. I think we just didn't have luck. If we had scored just one more shot, we would have won. All the guys fought, everything was fine, and we proved that we could play with CSKA. Now it does not matter whether the first place plays with the eighth, as only physical strength and fight matter. Most importantly is that we played without downs and had actually executed what coach said. Nevertheless, I congratulate all the guys on a good game. I think everyone liked it. However, there is no win for us, so we failed and this is an important point. The series goes on with a 1-0 lead for CSKA, but it's not over yet. In two days we will have another game, and I hope in the end we will not have such mistakes like today. We'll try to win".