BC Khimki made huge team effort and scored crucial win over historic rival CSKA Moscow — 79-73 (17-15, 27-27, 16-15, 19-16). CSKA leads 2-1 in the series. Now on Friday, April 27, 2018 Khimki and CSKA will play EuroLeague playoffs game 4. Tip-off at 20:00 msk.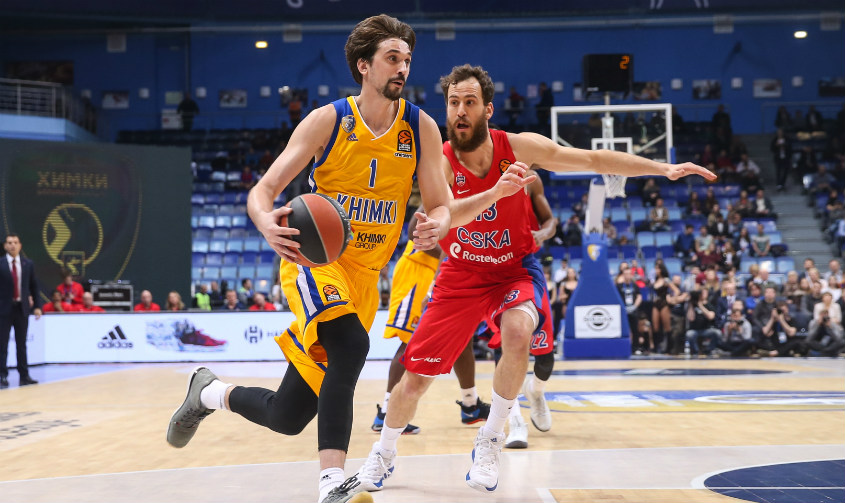 POST-GAME

Georgios Bartzokas, BC Khimki head coach:

"It's very difficult, as I said at halftime, against this team, which is so talented and so experienced. You need to be [focused] for 40 minutes. Defensively we were very solid. That's why CSKA scored less than 20 points from their average. It was important for us to defend well and to share the ball. Whatever we did, we had good open looks. On the other hand, we turned the ball over so many times. We were so stressed. We played under so much pressure; we wanted to win this game on our home court. Now we have to prepare for the next game".

Alexey Shved, BC Khimki guard:

"It was an important game for us and we played together as a team. The first two games we played, the score was close. We tried to play the same way here with our fans and they really helped us; of course it's easier at home. Now we will try to win the next one. We have one day off and then an important game. Tyler Honeycutt is back; he grabbed important rebounds and maybe that's why we won".

Tyler Honeycutt, BC Khimki forward:

"I think, the key was rebounding. In the first game we lost by the margin of 15 rebounds that hurt us, especially in the mind. Coming back I gave the team many things, I mean rebounds and also having an opportunity to make a crucial three at the end that keep us going the lead. We kept our spirits high in the game. We know the are gonna fight back in the game. It's not over yet; we have another game. We know we can compete with them, so it's a matter of us, giving the effort and energy, so it's a win. I felt good. I had only two or three practices [with the team]. It's not what I want to be but I know it's now or never. Trying to take care of my body as much as possible. Actually, I felt pretty good today. I didn't expect to play so many minutes but I'm glad I was able to".

Stefan Markovic, BC Khimki guard:

"We fought hard on rebounds, trying to control that area as well as defensive area. That was the key, I think, defense and rebounds. In the second quarter they caught us with too many offensive rebounds but we were still fighting, staying together. Now it's 2-1 and we have one more game at home. That's it. In such type of a game there is a lot of pressure, intensity and sometimes we lost our focus. But staying together and keeping fighting we were able to overcome that. Tyler [Honeycutt] is a good player, especially with his athletic abilities. He helped us on rebounding, on shots and defensively. It's huge having him. In the end he hit a clutch three-pointer, so it was nice we have such great players in the roster. It's good to have him back".