On Wednesday in the third round of the Euroleague regular phase BC Khimki will play at its site with the current champion of Spain Caja Laboral. The beginning of the meeting is at 20.00 Moscow time.
EXCHANGE OF OPINIONS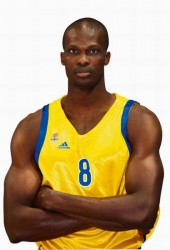 Benjamin Eze:
— Caja Laboral is a really great team with a long history. It played within the bounds of Euroleague for many years and made serious success. Experienced players with a good coach form a united mentality of winners. That's why I'm dead sure the game will be very difficult. Despite the fact we will play at home, our opponent will show its class and a high quality of a game. A serious rival means serious preparations for it. Of course, our fans will help us and first of all in emotional case: we feel better when we are supported around. Well, as for the previous game with Azovmash, I consider it to be a little strange. We had a lot of mistakes, but we have to work hard and I think in future we will play better.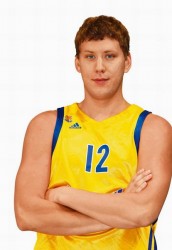 Fedor Dmitriev:
— I'm sure it will be a difficult game of equal competitors. Everything can be solved in the ending of the match. Wins the one who will be better prepared in the tactical plan. One of the main tasks is to neutralize Mirza Teletović against whom, apparently, I'm going to play. We should not allow him to make throws. If he fails his first attempts, he may lose a bit of confidence. I can not say that the memories of our meetings last season can seriously influence our motivation in the upcoming match. Then it was all in our hands. But we overestimated our strength. This year we have a great team. And we will seek only to win. The final result builds up from local success.
Last season, BC Khimki and Caja Laboral played in the TOP-16. The teams exchanged by victories on the road — in Vitoria-Gasteiz BC Khimki won 81-72, but in Russia lost 83-94.
Live broadcast of the match you may watch at NTV-PLUS SPORT, the beginning is at 19.30 Moscow time.
VISITING CARD
Caja Laboral Baskonia (Vitoria-Gasteiz, Basque Country, Spain)
Founded:
1959
History:
C.D. Basconia (1959–1983), Caja Alava (1983–1986), Taugres Baskonia/Tau Ceramica Baskonia (1986–2009), Caja Laboral Baskonia (2009–Present)
Arena:
Fernando Buesa Arena (capacity: 9,900)
Team colors:
White, Red, Dark Blue
President:
Jose Antonio Querejeta
Head coach:
Duško Ivanović
Titles
Spanish Championships:
3 (2002, 2008, 2010)
Spanish Cups:
6 (1995, 1999, 2002, 2004, 2006, 2009)
Saporta Cup:
1 (1996)
Spanish Supercups:
4 (2005, 2006, 2007, 2008)
Website:
baskonia.com
SEASON 2010/2011
Euroleague. Regular Season
Round 1. October, 21. Caja Laboral-Maccabi T-A — 94-78
Round 2. October, 27. Asseco Prokom-Caja Laboral — 73-80
Spanish League. Regular Season
Round 1. October 3. Caja Laboral-Meridiano A. — 92-47
Round 2. October, 9. Unicaja-Caja Laboral — 76-69
Round 3. October, 12. Caja Laboral-Gran Canaria — 82-61
Round 4. October, 24. Granada-Caja Laboral — 81-85
Round 5. October, 31. Caja Laboral-Fuenlabrada — 90-81
TEAM ROSTER
| № | Player | Position | Height | Birthday | Nationality |
| --- | --- | --- | --- | --- | --- |
| 4 | Pau Ribas | Guard | 193 | 1987 | Spain |
| 6 | Ander García | Guard | 192 | 1989 | Spain |
| 9 | Marcelinho Huertas | Guard | 190 | 1983 | Italy |
| 10 | David Logan | Guard | 184 | 1982 | Poland/USA |
| 12 | Mirza Teletovic | Forward | 206 | 1985 | Bosnia |
| 15 | Dejan Musli | Center | 212 | 1991 | Serbia |
| 19 | Fernando San Emeterio | Guard | 199 | 1984 | Spain |
| 21 | Martin Rancik | Center | 206 | 1978 | Slovakia |
| 22 | Marcus Haislip | Forward | 207 | 1980 | USA |
| 24 | Brad Oleson | Guard | 191 | 1983 | USA/Spain |
| 42 | Stanko Barac | Center | 217 | 1986 | Croatia |
| 44 | Nemanja Bjelica | Forward | 209 | 1988 | Serbia |