The next day after the Euroleague game with Polish Asseco Prokom BC Khimki players went from Gdynia to the capital of Latvia Riga, where on November 27, Saturday, our club within the bounds of VTB United League will meet with the local club VEF. The beginning of the meeting is at 18.00 Moscow time.
EXCHANGE OF OPINIONS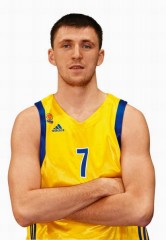 Vitaly Fridzon, BC Khimki captain
— On behalf of our team I would like to apologize to our fans for the game we had shown in the previous match. I promise: all the guys will do their best to improve the situation. And of course we need your support! Go to the arena and support us! In future we have difficult home games and, I'm sure, by means of your help we will score big successes. Now we are preparing for the meeting with VEF and will try to show beautiful basketball.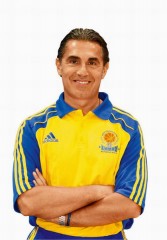 Sergio Scariolo, BC Khimki head coach:
— I subscribe to our captain's opinion and also apologize to our fans for the results of the game with Prokom. We are in a complicated condition now. The match with VEF is very important for us from the point of view of psychology and the standings in our VTB United League group. I suppose the game to be tough, as many previous ones. We struggle with our opponents but in the very endings our team grows pale appreciably. Ultimately we must realize that we have to play in the fourth quarter with the same concentration and intensity.
Team standings
VISITING CARD
BK VEF Riga (Riga, Latvia)
Nickname:
Vefiņš
Leagues:
Latvian Basketball League, Baltic League, VTB United League, ULEB Eurocup
Founded:
1929 (re-founded 2007)
Arena:
Riga Arena (capacity: 12,500)
Team colors:
Black and White
President:
Edgars Jaunups
Head coach:
Rimas Kurtinaitis (Lithuania)
Titles:
Latvian Championship vice-champion:
2010
Soviet Union Championship bronze medalist:
1960, 1966, 1991
Latvian Championship semi-finalist:
2008, 2009
Website:
vefriga.com
VTB UNITED LEAGUE RESULTS
October, 7
Kalev — VEF-Riga — 69-70
October, 16
VEF-Riga – Asseco Prokom — 63-76
October, 31
Zalgiris — VEF-Riga — 84-71
November, 12
VEF-Riga — BC Azovmash — 68-60
TEAM ROSTER
| № | Player | Position | Height | Birthday | Nationality |
| --- | --- | --- | --- | --- | --- |
| 5 | Raitis Grafs | C | 210 | 1981 | Latvia |
| 7 | Martins Gulbis | G | 197 | 1991 | Latvia |
| 9 | Gatis Jahovics | F | 200 | 1984 | Latvia |
| 10 | Sandis Valters | G | 193 | 1978 | Latvia |
| 11 | Derek Williams | G | 186 | 1985 | USA |
| 12 | Kristaps Janicenoks | G | 196 | 1983 | Latvia |
| 14 | Kaspars Berzins | F | 213 | 1985 | Latvia |
| 15 | Ivan Nelyubov | C | 207 | 1988 | Russia |
| 20 | Martins Laksa | F | 200 | 1990 | Latvia |
| 22 | Mediss Kristaps | G | 188 | 1989 | Latvia |
| 32 | Tyler Cain | F | 204 | 1988 | USA |
| 35 | Andrejs Selakovs | C | 208 | 1988 | Latvia |
| 45 | Dairis Bertans | G | 192 | 1989 | Latvia |
| 55 | Artsiom Parakhouski | C | 211 | 1987 | Belarus |