On Thursday within the bounds of Euroleague BC Khimki will meet with the most titled Israeli team, a twofold Euroleague winner Maccabi Tel Aviv B.C. The beginning of the game is at 20.00 Moscow time.
EXCHANGE OF OPINIONS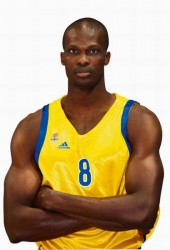 Benjamin Eze:
— Maccabi is a very good team, one of the leaders in our group and I'm sure the game will be tough. The Israeli league is strong, Maccabi also played with CSKA some years ago within the bounds of Euroleague and it is a worthy rival. We must be more concentrated than in previous matches. We should play well in defense – it will be the key for a successful outcome. I can especially point out Sofoklis Schortsanitis – he is a talented player and his partners will search him under the hoop at the first opportunity. We have to be ready for every game in Euroleague, the level of opponents is high and the demanding too.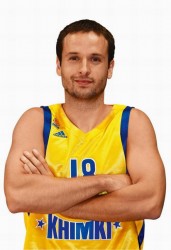 Raul Lopez:
– Maccabi has a balanced roster and a good coach. I suppose in Russia he is a well-known person, with the National team of your country he made serious success. We will give battle to one of the leaders and favorites in our group. Also Maccabi practically always is in the lead within the Israeli championship. Everything will depend on ourselves — we have to get ready for such a serious opponent. We have no problems with motivation hovewer in previous games we felt not good in the endings. Well, we should work hard.
Live broadcast of the match you may watch at NTV-PLUS SPORT, the beginning is at 19.30 Moscow time.
VISITING CARD
Maccabi "Electra" Tel Aviv B.C.
Founded:
1932
History:
1932-present
Arena:
Nokia Arena (capacity: 11,700)
Team colors:
Yellow and Blue
President:
Shimon Mizrahi
Head coach:
David Blatt
Titles
International
Euroleague Championships:
5 (1977, 1981 — Victories in the European Cup, the direct predecessor to today's Euroleague, officially recognized by FIBA and ULEB as Euroleague titles, 2001 — Suproleague Cup, 2004, 2005 — Euroleague Cup)
runner up: 8 (1980, 1982, 1987, 1988, 1989, 2000, 2006, 2008)
Total European Finals:
13 (1977, 1980, 1981, 1982, 1987, 1988, 1989, 2000, 2001, 2004, 2005, 2006, 2008)
Intercontinental Cups:
1 (1980)
runner up: 1 (1982)
NLB League (Adriatic League):
runner up: 1 (2003)
European Cup Winners' Cup:
runner up: 1 (1967)
Triple Crowns:
5 (*record) (1977, 1981, 2001, 2004, 2005)
Domestic
Israeli League Championship:
48 (*record) (1954, 1955, 1957-59, 1962-64, 1967, 1968, 1970-92, 1994-2007, 2009)
runner up: 5 (1960, 1961, 1966, 1969, 2008, 2010)
Israeli State Cup:
37 (*record) (1956, 1958, 1959, 1961, 1963-66, 1970-73, 1975, 1977-83, 1985-87, 1989-91, 1994, 1998-2006, 2010)
runner up: 5 (1962, 1969, 1996, 1997, 2008)
Winner Cup:
2 (2007, 2010)
runner up: 1 (2009)
Website:
http://www.maccabi.co.il/
SEASON 2010/2011
Euroleague. Regular Season
Game 1. October, 21. Caja Laboral-Maccabi T-A — 94-78
Game 2. October, 28. Maccabi Electra-Zalgiris — 86-70
Game 3. November, 4. Partizan mt:s Belgrade-Maccabi Electra — 54-67
Israel BasketBall League
Round 1. October, 17. Maccabi Electra Tel Aviv-Gilboa/Galil Elion — 102-75
Round 2. October, 24. Irony Ashkelon-Maccabi Electra Tel Aviv — 87-104
Round 3. October, 31. Maccabi Electra Tel Aviv-Hapoel Jerusalem — 75-55
Round 4. November, 11. Rishon Lezion-Maccabi Electra Tel Aviv — 68-89
TEAM ROSTER
| № | Player | Position | Height | Birthday | Nationality |
| --- | --- | --- | --- | --- | --- |
| 4 | Jeremy Pargo | guard | 188 | 1986 | USA |
| 5 | Richard Hendrix | forward | 203 | 1986 | USA |
| 6 | Derrick Sharp | guard | 183 | 1971 | Israel |
| 7 | David Blu | forward | 201 | 1980 | Israel |
| 8 | Lior Eliyahu | forward | 205 | 1985 | Israel |
| 9 | Yaniv Green | center | 206 | 1980 | Israel |
| 10 | Guy Pnini | forward | 201 | 1983 | Israel |
| 11 | Tal Burstein | guard | 198 | 1980 | Israel |
| 12 | Elishay Kadir | forward | 203 | 1987 | Israel |
| 13 | Chuck Eidson | forward | 202 | 1980 | USA |
| 14 | Jeff Foote | center | 211 | 1987 | USA |
| 15 | Doron Perkins | guard | 189 | 1983 | USA |
| 21 | Schortsanitis Sofoklis | center | 206 | 1985 | Greece |