On Sunday, November 14, our team will play a game of the 3rd round of VTB United League. The opponent of BC Khimki is a Euroleague group A colleague Polish club Asseco Prokom. The beginning of the meeting is at 18.00 Moscow time.
EXCHANGE OF OPINIONS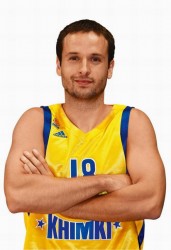 Raul Lopez:
— We also played with Prokom within the bounds of Euroleague. That game was tough but we won it. I suppose the Poles learned a lesson from that meeting and on Sunday we will deal with another Prokom — it will be more organized and concentrated. Despite our rich schedule and the fact that we have to play in three different tournaments, VTB United League is an important competition for us. In addition with some of the teams we play also in Euroleague: it's a good chance to try our strength and assess the rival better. It's very important to be at the same high level. To reach it we must forget about the vexing loss from Maccabi and be in the mood for a game with the Poles seriously.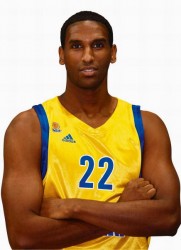 Thomas Kelati:
— I feel myself much better. A wonderful medical staff work in BC Khimki, everyone knows what to do and does it professionally. I really appreciate it. I hope my recovery will proceed faster: and now everything is going according to plan. The game with Prokom will be a special one for me — in this team my compatriots play: even if I won't go to the court. I know a lot of players, the coach and staff. We will play home and this will be a governing factor in our success: the fans of BC Khimki are really great. Prokom has a very long bench and frequent changes may suit them well. But we'll try to clear obstacles by quality, not quantity. I'm looking forward to Sunday.
Watch a live broadcast on Sportbox.ru at 18.00 Moscow time and Rossiya-2 (1 a.m. Moscow time)
.
VISITING CARD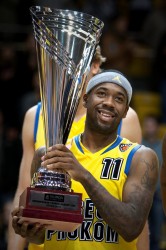 Asseco Prokom Gdynia (Gdynia, Poland)
Leagues:
Polska Liga Koszykówki (PLK), Euroleague
Founded:
1995
History:
Prokom Trefl (1995-2008), Asseco Prokom Sopot (2008-2009), Asseco Prokom Gdynia (2009-present)
Arena:
Gdynia Sports Arena (capacity: 5,000)
Location:
Gdynia, Poland
Team colors:
Yellow and Blue
President:
Przemysław Sęczkowski
Head coach:
Tomas Pačėsas (since December 1, 2007)
Achievements:
Polish Championship (7): 2004-2010
Polish Cup (4): 2000, 2001, 2006, 2008
Website:
www.asseco.prokom.pl
BC Khimki played with Asseco Prokom not long ago — in the first round of Euroleague group stage. Our team won 82-76. In Euroleague Prokom was beaten by Caja Laboral 73-80 and Zalgiris 68-73 (in the overtime). On Wednesday the Poles again lost — on this occasion Serbian Partizan was victorious over them 62-69. In Polish Championship Prokom ranks 7th place (2 wins, 2 losses).
RECENT VTB UNITED LEAGUE RESULTS
October, 10
Azovmash
– Asseco Prokom – 80-76 (22-12, 22-26, 14-18, 22-20)
October, 16
VEF-Riga –
Asseco Prokom
– 63-76 (15-21, 17-23, 12-16, 19-16)
October, 30
Asseco Prokom
— Kalev — 64-58 (24-18, 9-16, 15-14, 16-10)
TEAM ROSTER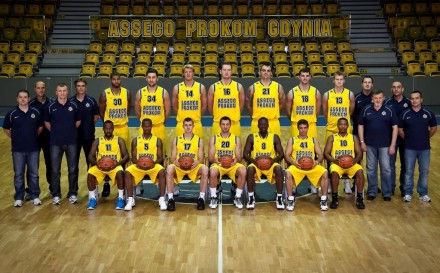 | № | Player | Position | Height | Birthday . | Nationality |
| --- | --- | --- | --- | --- | --- |
| 5 | Daniel Ewing | G | 191 | 1983 | USA |
| 10 | Michael Wilks | G | 178 | 1979 | USA |
| 11 | Bobby Brown | G | 188 | 1984 | USA |
| 13 | Mateusz Kostrzewski | F | 201 | 1989 | Poland |
| 14 | Jan-Hendrik Jagla | F | 213 | 1981 | Germany |
| 16 | Adam Łapeta | C | 217 | 1987 | Poland |
| 18 | Robert Witka | F | 205 | 1981 | Poland |
| 41 | Iwo Kitzinger | G | 183 | 1985 | Poland |
| 20 | Piotr Szczotka | F | 196 | 1981 | Poland |
| 21 | Ratko Varda | C | 213 | 1979 | Bosnia |
| 30 | Ronald Burrell | F | 204 | 1983 | USA |
| 34 | Adam Hrycaniuk | C | 206 | 1984 | Poland |
| 8 | Filip Videnov | F | 196 | 1980 | Bulgaria |
| 4 | Justin Ray Giddens | G | 196 | 1985 | USA |