Today a EuroCup season 2011/2012 draw ceremony has been held in Barcelona. BC Khimki entered Group B, where it will meet with PAOK (Greece), Cholet Basket (France) and VEF-Riga (Latvia). Moreover the Eurocup 2011-12 Regular Season Calendar was announced.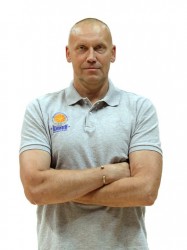 Rimas Kurtinaitis, BC Khimki head coach:
— Nothing to say now about the results of the draw ceremony. Moreover on the eve of the two games with VEF and Kalev in VTB United League I wouldn't like to enlarge upon the subject: now we are focused on these two games. PAOK, Cholet Basket and VEF-Riga are well-known teams, all of them are able to play attacking basketball. In the offseason the rosters were changed, but this is normal practice. It is a pity that we fall into one group with VEF — we already play with this them in VTB United League, but there's nothing to be done.
The six-game Eurocup regular season will begin on November 15 and finish on December 20, with the best two of each group's four teams advancing. Games resume on January 17, with the opening of the Last 16 round, which consists of six more games for each team, ending February 28. Again, the best two teams from each group advance, this time to the Quarterfinals, head-to-head two-game home-and-away series decided on aggregate score between March 20 and 27. Those four series winners will reach the Eurocup Finals for single-elimination games to decide a champion on April 14 and 15.
Group A: KK Cibona, Hapoel Jerusalem, BC Donetsk, BCM Gravelines
Group B: BC Khimki, PAOK BC, Cholet Basket, VEF Riga
Group C: Aris BSA 2003, CEZ Nymburk, BC Rudupis, Gasterra Flames
Group D: Valencia Basket, Telenet Oostende, Asvel Basket, Lukoil Academic
Group E: Gran Canaria 2014, Lokomotiv-Kuban, Banvit BK, Fraport Skyliners
Group F: Lietuvos Rytas, Le Mans Sarthe, BC Azovmash, Krka Novo Mesto
Group G: Benetton Basket, Spartak St. Petersburg, Cedevita Zagreb, FC Bayern Munich
Group H: Alba Berlin, Dexia Mons-Hainaut, KK Buducnost Voli, PGE Turow Zgorzelec
BC Khimki 2011/2012 EuroCup Regular Season Calendar
Game 1. November, 15. Cholet Basket vs. BC Khimki
Game 2. November, 22. BC Khimki — VEF-Riga
Game 3. November, 29. PAOK — BC Khimki
Game 4. December, 6. BC Khimki — PAOK
Game 5. December, 13. BC Khimki — Cholet Basket
Game 6. December, 20. VEF-Riga — BC Khimki