Two games were played at the first Alexander Petrenko Pro Memoria tournament day. BC Khimki youth team scored a confident victory over Krasnye Krylia Tolyatti. Tomorrow there will be two games: Kazakhstan team — Chekhovskiye yastreby and BC Triumph — Krasnye Krylia Tolyatti.
BC Khimki (Moscow Region)
— Krasnye Krylia Tolyatti —
73-58
(20-15, 15-8, 15-9, 23-26)
BC Khimki best scorers:
A.Karpeko (14 + 10 rebounds + 3 assists), Plotnikov (13 + 6 assists), Chislov (10 + 3 rebounds), Sakharov (9), Nazarov (8 + 7 rebounds).
Ramunas Cvirka, BC Khimki youth team head coach: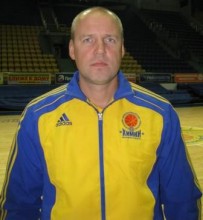 — On the one hand, we missed not many points, but on the other, didn't realize in defense that we intended. I can say the opponent allowed us to play in such a way. We are not good enough as in defense as in the attack, the guys don't achieve a team-work, don't feel each other at the court, there is some misunderstanding, not many fast breaks... We're working on it. I wouldn't like to point out any player.
Game 1 result:
BS Chekhovskiye yastreby (Chekhov)– BC Dynamo (Moscow) —
24-100
(3-26, 9-30, 6-25, 6-19)
Alexander Petrenko Pro Memoria tournament schedule
September 30 (Friday)
14.00 msk – Kazakhstan team – BS Chekhovskiye yastreby (Chekhov)
16.00 msk – BC Triumph – Krasnye Krylia Tolyatti
October 1 (Saturday)
12.00 msk – BC Dynamo (Moscow) – Kazakhstan team
14.00 msk – BC Khimki – BC Triumph
October 2 (Sunday)
11.00 msk – 5th place game
13.00 msk – 3rd place game
15.00 msk – FINAL
ADMISSION IS FREE