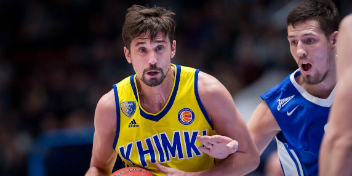 BC Khimki is glad to announce that both VTB United League and 7Days EuroCup MVP Alexey Shved will stay in our club. New agreement between the club and the player has been signed till the end of season 2019/2020.

Alexey Shved joined BC Khimki in July 2015. In two seasons with our team Shved played 104 games (89 started), averaging 19.3 points (totally – 2006 points), 3.2 rebounds (totally – 329 rebounds), 4.7 assists (totally – 490 assists), 1.2 steals (totally – 127 steals) and 0.4 blocks (totally – 39 blocks) in 27.8 minutes with efficiency of 17.8 points. He shot 50.3% of two-point throws (348 of 692 attempts), 38.2% three-pointers (300 of 785 attempts), and 79.3% of free throws (410 of 517 attempts).

In BC Khimki Shved became both VTB United League and 7Days EuroCup MVP. Also he was selected to 2016-17 All-7Days EuroCup First Team and to 2016/2017 VTB United League regular season All-team. Shved was named BC Khimki second best player in 2016 and first in 2017 (by fans choice). He was voted as best Russian player in VTB United League in season 2015/2016. He was named the most valuable player of the VTB United League in November 2016 and February 2017, and also received a similar award in the fourth round of the 7Days EuroCup Top 16 and in the second games of the EuroCup 1/4 finals. In February 2017, he participated in the All-Star game of VTB United League, which was held in Sochi.