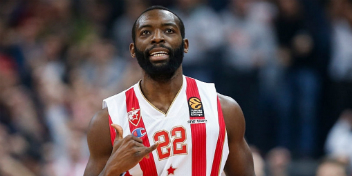 Guard Charles Jenkins, who moved from Crvena Zvezda Belgrade to BC Khimki this offseason, speaks upon his time in Serbia, work with coach Bartzokas and shares his expectation from playing in VTB League.

Charles, welcome to Khimki. First, how did you decide to move to Russia and sign with Khimki?
"I decided to sign with Khimki for a few reasons. First, to be a part of a club that will have an opportunity to compete in EuroLeague. Then, to play for coach Bartzokas who I've heard a lot of great things about. And also I am close friends with Robbie Hummel who played for Khimki last season and he told me good things about the management and the club".

Last season you played for Crvena Zvezda in Serbia where you became ABA champion and ABA Finals MVP. What did it mean for you to play for this club?
"It meant a lot to play for Crvena Zvezda. I was there for three seasons and they helped me to become a better player".

Now you go to Russia. Any ideas about our country and VTB League?
"I'm not really sure what to expect I've only been to Russia three times for road games but as for playing I expect to be a part of a club that will compete every game. I know that VTB League is one of top leagues to play in. There are a lot of competitive teams there".

Did you have a talk with coach Bartzokas? What can you say about him?
"I'm really excited to play for Bartzokas. I'm aware of the success he had in his previous clubs and I hope we can continue the same in Khimki. Also, I'm excited to play with all of my new teammates".

Each American player has its own European story. What is yours? How did you first decide to go to Europe?
"I played in the NBA with Jeremy Pargo and we weren't getting much playing time and he told me all about European basketball and convinced me to give it a try. My NBA experience was really short. I played a full season my rookie year and the next season I didn't play much. I think playing for Crvena Zvezda helped me to adjust a lot more to Europe".

Besides Crvena Zvezda, you have another European experience as you played for Milano in Italy. What about Italian championship?
"Winning the Italian Cup and Italian Championship was a great experience. During the season the players sacrificed and it's always a good feeling to win a trophy".

How do you spend your vacations? What do you do right now in the USA?
"My vacation is really short but for the most part I just like to spend time with my family that I don't get to see while I am away".

What do you do besides basketball? What are your hobbies and interests?
"Besides basketball I'm into taking pictures and reading that's what I like to do the most".