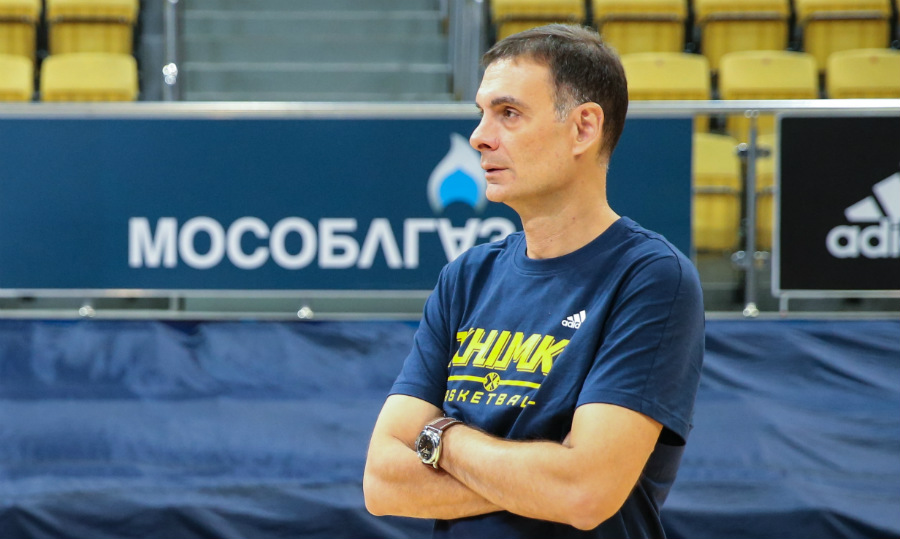 BC Khimki head coach Georgios Bartzokas speaks upon preseason preparations.
On injuried players and FIBA windows

"All the teams are having same problems in the preseason with these windows of FIBA. Honestly, this situation creates for us a lot of problems. First, is that we still don't have Shved. Russian national team had three weeks for preparations. No other national team had long period for working. So, we lost our national team players. Then, we lost Gubanov from national team games. Also, now Shved had to go to Barcelona due to EuroLeague obligations. For us it's a problem. On the other hand, Prather is injuried and is still out; Bost was out with Bulgarian national team; Markovic is still not ready. It's not easy to make conclusions from [Cyprus Tournament] games, but so far day by day the team is getting better, players learning each other and our phylosophy. It's always the same process. This period you try to learn how your players act, how they think, how they play. Honestly, I think that, bearing in mind that we didn't have three point guards in the [Cyprus] tournament, we were competitive, that's more important".

On games in Cyprus Tournament

"AEK played zone all forty minutes in all games that let them win this tournament. That is not our priority. As for the game with Maccabi, we had a 17-points lead but at the end of the game they stole the ball from our point guards and we lost. I cannot complain about anything because we had Maxim Tkachenko and Slava Zaytsev on these [point guard] position. Let's say positive things, but of course we have a lot of things to improve, which is normal. We need to become a team; we need to see the whole team on the court to evaluate our potential".

On new players

"Crocker immediately showed that he is a top-level player. As for Mickey, he has huge potential but still has to learn European way of basketball, I mean the intensity and physicality that games have in Europe. He is learning every day; he is smart and understands more and more what he has to do".

On young players

"Tima Yakushin had a lot of playing time; Max Tkachenko had his minutes, but he is not a young player. In this preseason young player are helping us a lot. Also, we have Dima Kadoshnikov, who is only 17 years old. He is every day with us, so he has to learn a lot. Of course, he has potential to play a high-level basketball. It's too early for them. Of course, Tima [Yakushin] has advantage as last year all the season he was with the first team. Now, he looks more ready. You cannot compare him with the others but everybody is doing right things to develop in right direction".

On playing with the same teams

"I think, it doesn't matter. First of all, now we play in Turkey with three Turkish teams. Also, we saw Panathinaikos and Maccabi games but in the second game they will be completely different teams. We are going to be a completely different team as well; all the teams will have different rosters. So, I'm happy with the team. It's always the same process but I'm positive about the team".