Khimki lost to FC Barcelona at home in a EuroLeague round 19 game — 75-87 (26-26, 22-28, 12-19, 15-14). Now on Thursday, January 14, 2021 our team will face Anadolu Efes Istanbul on the road. Tip-off at 20:30 msk.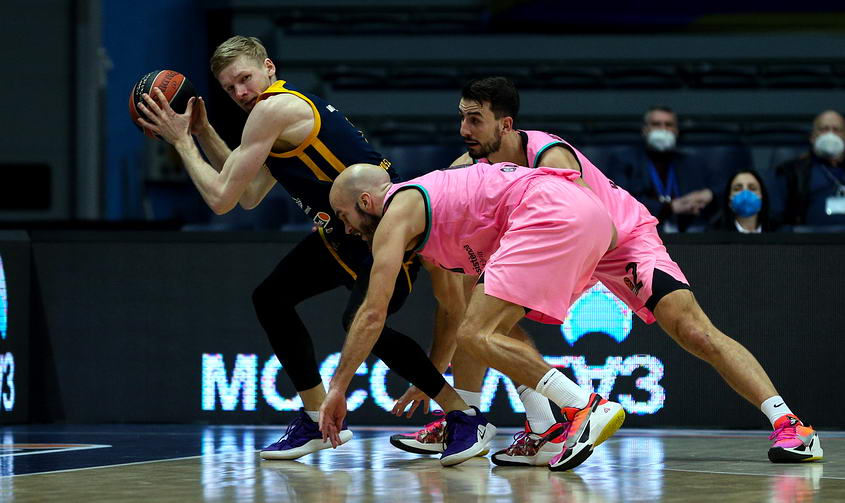 POST-GAME
Rimas Kurtinaitis, Khimki Moscow Region head coach:
"Congratulations to FC Barcelona and Coach Sarunas Jasikevicius on a good game and win. From our side, many aspects of the game were not bad, especially in terms of defense. However, today we had serious problems with rebounds, as we took 22 rebounds less, having allowed the opponent to make 22 additional offenses. This was the key to their win. We have good practices, but we can't keep our concentration for 40 minutes. We were preparing for this game and knew how FC Barcelona would defend, but we applied our best preparations very sporadically. One of the biggest problems is that we don't stick to the game plan. There are difficulties and after so many lost games, it is not so easy to raise the team psychologically. In this regard, we need to work on some things: if we have problems with shooting one game, then today we had a problem with rebounds, and this problem was obvious. It is difficult, but I have already said more than once: no one will help us, only ourselves".
Dairis Bertans, Khimki Moscow Region guard:
"If we knew the answer to why this is happening, especially in the second half, we would have taken it into account and what happened would not have happened. We lost the rebounding, but we have a lot of [switches], our bigs remain upside, so we have to fight with small guys against the opponent's bigs. In this situation, to take the rebound becomes difficult. There are a lot of games ahead, but it is clear that we can no longer think about the EuroLeague Playoffs. All the same, we will not give up and will fight to the end to improve our game".