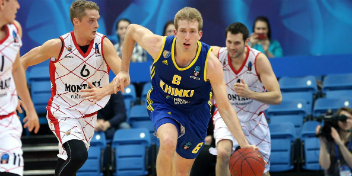 BC Khimki forward Robbie Hummel speaks upon the last 7Days EuroCup Top 16 game with Lietkabeklis Panevezys, shares with us his ideas about upcoming matchup against FC Bayern Munich and depicts his life in Russia.

Robbie, how did you like the game with Lietkabelis? Great start but then soft third quarter…
"Yes, I know. Kind the same thing as against Munich. We could make a big lead and weren't able to hold on. Luckily, in this game in Lithuania we were able to storm to win the play. It was obviously a big game for us, just to qualify to the next round. It was one of the stretches where we didn't play great defense. Offensively we didn't score for a while so I think we have to correct it".

How are going to outscore FC Bayern Munich by 17 points?
"Yes, it's gonna be a big challenge for us. They are a good team; they have good players that, I guess, have played best basketball. They are really lucked to win what they need to do. It's not impossible so I think we have confidence winning this game. It's gonna be a tall task. We need to play our best".

Have you been in similar situations throughout your career when you had to play on point difference?
"Yes, actually last year when I was in Milan my team got eliminated from the EuroLeague by Jacob's [Pullen] team (Cedevita Zagreb), because we needed to beat them by eight and won by six. We didn't advance to the Top 16, because of that. That's been only one time cause in the US we really don't play on point difference like they do in Europe here".

What is the main point you should focus before this game?
"FC Bayern Munich is a physical team; their guards are very quick; their bigs are good. As I said before, they have many good players. I think we have to matchup their physicality bringing the energy and intensity that they really brought to us in Munich".

They have big men in Booker, Kleber and a newcomer Zirbes. How to stop them?
"I mean coming a lot guarding them one on one. It's about individual battles we have to win. These guys were better us in those one on one situations. Hopefully, this game will go more away".

First game in Munich was not good. What happened after a halftime?
"You know, it's a tough question. We had good things going in the first half; we've been playing well. They couldn't stop our way. At the halftime, we didn't capitalize from taking an advantage of the couple of plays. I think they could really push the lead out that we've built. We were wrong doing that and they did like snowfall on us in the second half. They made shots and made us pay".

Despite the result of this game, you are in the play-offs. How do you like this tournament so far?
"It's pretty good. We've been around some places in Europe and we've played pretty well for the most parts. That's always you look forward to. It's good we've been moving on to the next round".

What is better for you to play with Valencia or Unicaja in the EuroCup quarterfinals?
"It doesn't matter to me. I think both teams are very good; both teams are in strong conditions. Every year they have good squads. Abroad Spanish teams and I haven't seen a lot how they really played this season so I don't really know who is better, who plays differently. Both will present a definite challenge for us in the next round".

How do you feel in the team? Did you find the chemistry with your teammates?
"We have a good thing. I think we have a lot of unselfish guys who really enjoy playing together. When you share the ball and play that way, it's definitely a lot of fun".

How do you like yout life in Russia? Is everything okay for you?
"Yes, it's been good. Moscow is very international and foodwise. I guess you can get many American restaurants. There are all type of food. It's not just one country like some of the, I guess, in Italy and Spin, where I played. Their culinary traditions are very tory. Whereas here it's a melting part of different restaurants. So it's been good".

How do you feel after your nose injury?
"It's better but sometimes is still a little bit different because my nose was broken. It doesn't hurt anymore so it's good".