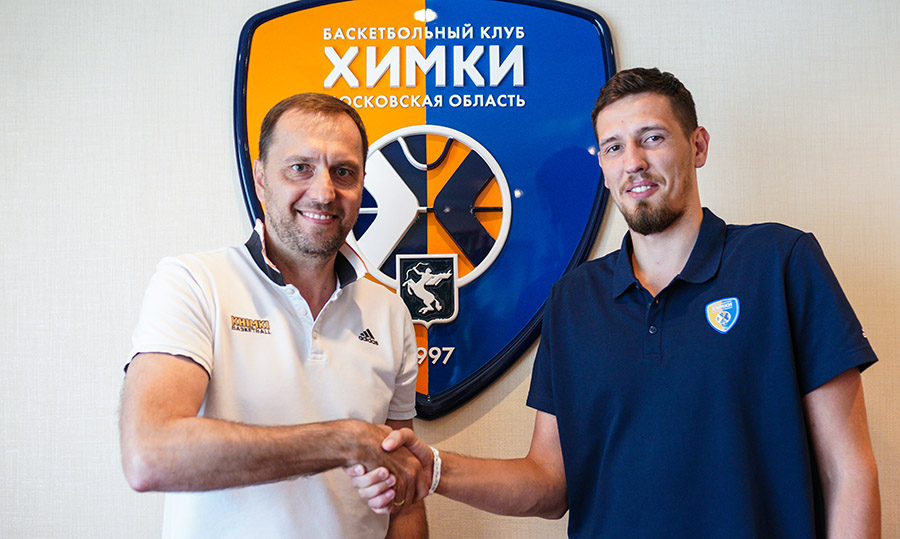 Khimki Moscow Region signed a two-year deal with Russian forward Evgeny Valiev, who played last five seasons with Zenit Saint Petersburg. Welcome to the Khimki family, Evgeny!
Rimas Kurtinaitis, Khimki Moscow Region head coach:

"I have been following Evgeny for a long time. He is an experienced and strong player, but quite young. Last year we had problems with rebounds, so we were looking for a player who would strengthen the work under the hoop. Valiev fights well for the boards, he is purposeful and, I am sure, will fit our team well".

Evgeny Valiev, Khimki Moscow Region forward:

"I was already on vacations away when the agent called and offered the option from Khimki. The contract for two years with such a strong team is an impetus for the development of my career, a new challenge. I agreed almost immediately. Although, to be honest, to leave after so many years in St. Petersburg was not easy, I got attached to the city. But it's time to take a step forward. I haven't talked to my friends from Khimki, but I plan to write to Janis Timma today. I am very pleased to be in the team with such an excellent selection of players and an experienced coach. I will do my best to help Khimki achieve high results".

Evgeny Valiev

Birthday — May 3, 1990
Position – Power forward
Height – 205 cm.
Weight – 113 kg.
Nationality – USA

Valiev arrives from Zenit St Petersburg, where he averaged 4.5 points on 69.7% two-point shooting and 2.4 rebounds in 14 games of the 7DAYS EuroCup last season. He started his professional basketball career with RVK Moscow, joining Triumph Lyubertsy in 2007. Valiev played for the same club until now, having stayed when Triumph became Zenit St Petersburg in 2014.

Sports career
2005-2006 – Ural-Great Perm (Russia),
2006-2007 – RVK Moscow (Russia),
2007-2014 – Triumph Lyubertsy (Russia),
2014-2019 – Zenit Saint Petersburg (Russia),
Since 2019 – Khimki Moscow Region

Achievements:
2013 – Universiade winner
2016 – VTB United League bronze, Russian Championship bronze, Russian Cup runner-up
2017 – VTB United League bronze, Russian Championship bronze
2018 – VTB United League bronze, Russian Championship bronze

Player of Russian national team.