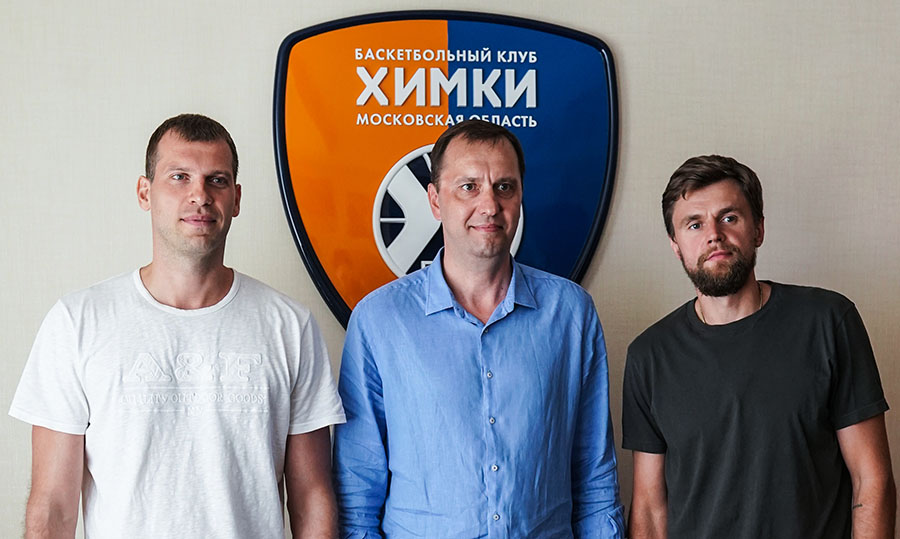 Khimki Moscow Region is glad to announce that captain Sergey Monya and vice captain Egor Vyaltsev will stay in our club for one more season. Their contracts were signed till 2021.
Pavel Astakhov, Khimki Moscow Region General Manager:

"I can say with full confidence that without our long-term captain Sergey Monya and his assistant Egor Vyaltsev, it is impossible to imagine Basketball Club Khimki. There is no need to look at the age or passport details, because physically they will give a lot of points ahead to any young player. And even more so in terms of professional qualities, because Sergey and Egor are the foundation of our club. In general, we are happy that we were able to keep the bunch of Russian players. This continuity is always important, and when there are guys in the team who are ready to die for the club on the court, it is very honorable for us. I am sure that both Monya and Vyaltsev have not said their last word yet, and they will help us very much in the upcoming season".

Rimas Kurtinaitis, Khimki Moscow Region head coach:

"Monya and Vyaltsev are the heart of the team, our oldtimers. We didn't have any questions about extending contracts. They are my assistants, they keep discipline, both in the locker room and in the game. Of course, they don't get as much playing time as they used to. But I trust them, they never let me down. When we need fighting qualities in the game, I always have two players who will give their best, give the team the spark they need, as they are the ones who are ready to die on the court for the club".

Sergey Monya, Khimki Moscow Region captain:

"Many thanks to the club's management and coaching staff for their trust! The club is my second family, so I am very happy to stay here for another year. A great team is being constructed, and I have a positive attitude for the next season. During the quarantine, I tried to keep fit as much as possible, took equipment for practice from the club, and starting from June 12, five players and I worked with the coach for twenty days. We had good training sessions, so now we are in good shape. I will take a short break, go on vacation with my family to the Crimea, and then go through a small training camp again. I hope that in the new season we will play steadily, without sharp changes and achieve excellent results".

Egor Vyaltsev, Khimki Moscow Region vice captain:

"I am very happy to stay at my home club. This is my heart and my home. I thank the club's management and coaches for their trust. I think the next season will be successful for us, and we will be able to win gold medals in the VTB United League. Last season turned out to be ambiguous: we didn't finish it and didn't say our last word, although everything went well in principle, but we had to stop due to the pandemic. We are full of strength and determination. We have a great team, we will prepare for training camp. The other day, we finished a twenty-day training cycle with other players, that is, we actually passed the first summer training camp, and our form is now normal. There is a short pause ahead, after which we will start preparing for the main club training camps. Let's have a rest in Crimea with our family, come back and train again".

Sergey Monya is 37 years old. He has been playing for our team since 2010. The captain will be the first player in Khimki's history to spend 11 seasons for the club. It is not surprising that most of the club records belong to Sergey Monya, among which:
— record for games played for the club – at the moment – 549 matches (363 — at the start)
— the highest number of rebounds – 2116
— the largest number of blocked shots – 459
— record for three-pointers – 796

Egor Vyaltsev is 34 years old. He has been playing for Khimki since 2011. The next season will be his tenth anniversary in yellow and blue jersey. At the moment, Egor has 429 games on his account for Khimki (the third result in Khimki's history). Vyaltsev is the club's record holder for the number of points scored and three-pointers thrown in a single game. In 2016, in a home game against Astana Kazakhstan, he scored 40 points, including 12 triples.