BC Khimki outscored VEF in the first 2017/2018 road game, held in Riga, Latvia — 104-64, due to Anderson's 24 pts and Shved's 20 pts. Next play is Valencia. First EuroLeague game will be held at Mytishchi Arena on Friday, October 13, 2017. Tip-off at 20:00 msk.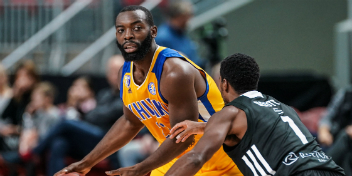 BC Khimki: Anderson (24 + 3 assists), Shved (20 + 5 assists), Markovic (14 + 5 rebounds + 4 assists), Jenkins (11), Zaytsev (9), Thomas (8 + 3 rebounds + 3 blocks), Gill (7 + 7 rebounds), Robinson (6 + 3 rebounds), Zubkov (3), Vyaltsev (2), Monya.

POST GAME

Georgios Bartzokas, BC Khimki head coach:

"First of all, we are very satisfied that we've won this game. Before the game we gave information to our players that we were talking about a very serious team with a lot of talent, especially on the offensive rebounds and the way they shoot the ball, including the big men. So it was all about our approach. Offensively we were very consistent all forty minutes but defensively in the first half we allowed VEF to have ten possessions more after offensive rebounds. We spoke about it in the locker room in the half-time. We need to approach with the different way to such games because we are talking about very dangerous games. If the score is tied in the end of the game, they gonna have a chance to win. Obviously, our approach and attitude in the second half was completely different, that's why the game finished with this way. We are very satisfied with this road win and now we have to focus and prepare the team for the first EuroLeague game on Friday".