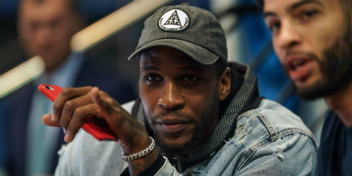 Thomas Robinson joined the team two days ago and today had first individual practice under observation of head coach Georgios Bartzokas. 2012 NBA draft fifth pick shared with us his impressions on first BC Khimki game and some more.

"I liked the first game, it was exciting, – Robinson said. – I think the guys played a lot better in the second half. I'm really excited about being on the court, actually. I see everybody is very unselfish here that is a great thing. I love playing with willing to pass guys that makes my job easier. I'm trying to win and came here to win every day".

Robinson was watching the game with his friend Tyler Honeycutt, with whom they played in Sacramento Kings.

"Tyler told me personally about everybody, the players, how the games may be, how like to see the fans come out a little bit more. I didn't see any practices yet but I watched the game, heard the coach talk, so I pretty much get what they are trying to do. All the ideas about winning so I'm trying to do and I'm pretty sure what coach wants to do", – he added.

Thomas is pretty familiar with some BC Khimki players as he played with some of them in one team.

"Yes, I played with few of them, – Robinson admits. – In my rookie year I was with Tyler in the same team; with James we also played together. Of course, I'm familiar with Alex and I love his game. I've been a big fan of Alex for years. I'm excited to play with them".

Also, Robinson commented upon his EuroLeague debut.

"Of course, this is definitely the highest competition outside the NBA. But right now, I don't worry about any competition or who we gonna play against. I wanna get comfortable on my guys and win everything that we come out to. The coach told me just to get comfortable. I'll learn defensive things that are gonna be doing as well as switching which I feel like I can do to a high level. So, I'm gonna do that here".

Thomas said a few words on his adjustment in Russia.

"I'm a beast, man, I can adjust anywhere, – Robinson smiles. – So, it's good. This is a new experience for me; gonna mature life here as a player and as a person. I think it was time for me to get away mentally from the States just come here for something new".

Last season Thomas played with Mozgov in LA Lakers.

"I've been talking to him a lot", – Robinson added.

"Like I told you, I'm just here for everything, everyday".